Royal rewards for
TES

students' essays on fathers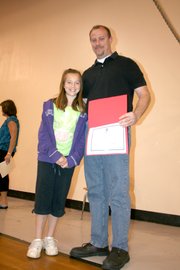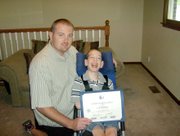 The Kansas City Royals and National Center for Fathering partnered up to hold the 2009 Kansas City Royals Father of the Year Essay Contest.
Tonganoxie Elementary School third-grader Cole Keltner and TES fourth-grader Rachel Maurer were recognized for their essays. Cole was runner-up in the third-grade category for his essay about his father, Ryan Keltner.
Rachel was a semi-finalist in fourth grade for her essay about her father, Andrew Maurer.
In total, there were more than 20,000 entries for the contest and TES was unique in that it had two winners recognized. Cole received ticket vouchers to a Kansas City Royals baseball game for being selected as a runner-up. Ryan said the family just used the vouchers, as they attended Saturday's game against the Cincinnati Reds at Kauffman Stadium. The Royals won the game.
In honor of Father's Day, which is Sunday, The Mirror is running both TES students' essays as they were written.
Cole Keltner's essay
What makes my dad special? My dad is very, very special to me for many reasons. I am in a wheelchair and depend upon my dad for so much. He feeds me, carries me and does so many things for me that I can't do for myself. My dad gets up early every morning and works hard all day long. But yet he knows his job isn't finished once he gets home at night. But, he never complains. We do lots of fun things, too. We play Playstation and Rockband. We also go for motorcycle rides. We have one with a sidecar so I can go along. As you can see my dad is very special to me. He means so much to me for all the wonderful things he does for me.
(Cole was in the third-grade class of teacher Gail Kiefer and his para, Debbie Denholm, assisted in submitting his essay.)
"My Dad is the Best" by Rachel Maurer
My dad is the best because he is so handy and wonderful. I love my dad. He built us a barn and loves us like the world. My dad is the BEST!!! He is sooooo smart! He helps us with our homework. He goes to work everyday for us. He rides his dirt bike with us. He cooks for us. He fixes our stuff for us when it is broken. He cares for us. My dad stays home with us when we are sick. He plays with us and even plays Monster Jam with me. He takes us on awesome vacations. He makes us laugh so hard we can't breathe. I'm so lucky because he doesn't fight with our mom. He takes us out to dinner. He takes us to church. He tells us stories about his childhood that we laugh at. He loves to go outside with us. He loves us soooo much!!! He even dances in the car with me. Even when he yells at the TV like they can hear him I still love him. He supports me at my basketball games. In the car, he sings along with the songs. Even during bad times he comforts us. He supports me with what I believe in. My awesome dad is an engineer, so he works very hard. He takes us out to buy gifts for our mom on her birthday and mother's day. And when I need his help, he'll help me. When we all get in my mom and dad's bed he is the one that starts the funny, crazy stuff. As you can tell, I LOVE my dad. I think he is the BEST dad in the world! If you knew him, you would think so too! That's how much I love my awesome daddy!!!!!!!