U.S.

flags properly retired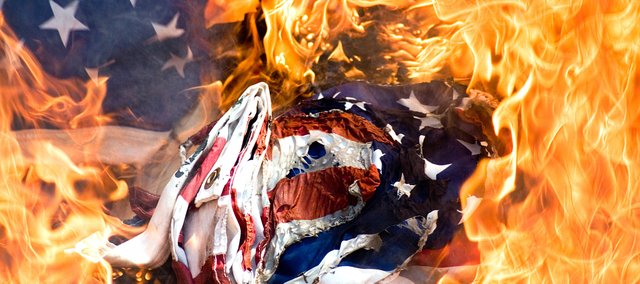 Photo Gallery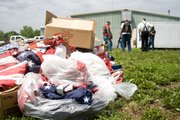 Retirement Ceremony
Members of the American Legion Post 225, Ozawkie; Post 31, Rossville; and Post 41, Tonganoxie, gathered to observe Flag Day by retiring unserviceable flags.
Ozawkie — Outside the American Legion Post 225 headquarters in Ozawkie, legion members from Post 31 in Rossville and Post 41 in Tonganoxie gathered to observe Flag Day in a special way.
Aligned in two rows, while holding in place flagpoles with Old Glory at the ends of those rows, the legionnaires on Sunday prepared to start the ceremony where more than 200 faded, frayed or tattered flags were in the process of being honorably retired.
"We do this every year around Flag Day," Bill Watson, the post's sergeant-at-arms, said. "It's quite a ceremony."
While marching in step, Dean Smith and Watson approached Ron Harper, the Post 225 commander, bearing a well-worn American flag.
"Comrade Commander, we wish to present a number of unserviceable flags of our country for inspection and disposal," Watson said.
Harper told the two men to present the flag to the second- and first-vice commanders of the post for inspection.
Dave Higgins, the post's second-vice commander, asked Smith and Watson whether the flags ready for retirement were worn as a result of usual service.
"These flags have become faded and worn over the graves of our departed comrades and the dead soldiers, sailors, and airmen of our nation's wars," Watson replied.
Higgins told the two to proceed to Frank Cooper, the post's first-vice commander, for more inspection.
Cooper asked if these flags served any other purpose, to which Watson replied, "Some of these flags have been displayed in various public places."
Cooper told the men to proceed to Harper for one final inspection and dignified disposal. Harper asked Smith and Watson whether the flags had been inspected by both vice commanders and then asked Higgins and Cooper for their recommendations.
Higgins and Cooper tell Harper the flags had served their duty and should be honorably retired and "fittingly destroyed."
"Comrades, we have presented here these flags of our country, which have been inspected and judged as unserviceable. They have reached their present state in a proper service of tribute, memory and love," Harper said.
Harper went on to say that the real value of the flag came from what it symbolized: a nation of free men and women, true to the faith of the past and devoted to the ideals of practicing of justice, freedom and democracy and it recognized those who have lived worked and died for the country. Higgins then gave the order for the flags to be retired and destroyed with respectful and honorable rites and for the old flags to be replaced with bright new ones.
Post chaplain Mike Goodman offered a prayer before the color guard, along with Smith and Watson proceed to the fire pit and place the flag over the flames while a bugle played.
According to title 4, section 8 of the U.S. Code provided by the U.S. House of Representatives' Office of the Law Revision Counsel, "The flag, when it is in such condition that it is no longer a fitting emblem for display, should be destroyed in a dignified way, preferably by burning,"
This was the first year that the American Legion post in Tonganoxie has participated in the ceremony. For months, the Post 41 members have been collecting flags that were ready to be retired from local residents and even some from Kansas Speedway.
Don Harden, senior-vice commander for Tonganoxie Post 41, said the flag embodies the country and when they see one that is worn and tattered he thinks it shows a lack of respect. And when they can replace it with a new one it shows love for the country. He was happy to participate in a ceremony in which the flags were retired honorably.
"There's a right way and a wrong way to do everything," Harden said. "By honoring the symbol of our country in a proper setting and proper ceremony it shows reverence for the flag and honor for the flag."
Harden and Harper said that anyone can contact any American Legion post to find out where to drop off flags that are ready to be retired. The legion is also selling replacement flags for people for around $10.