Weather works out well for festival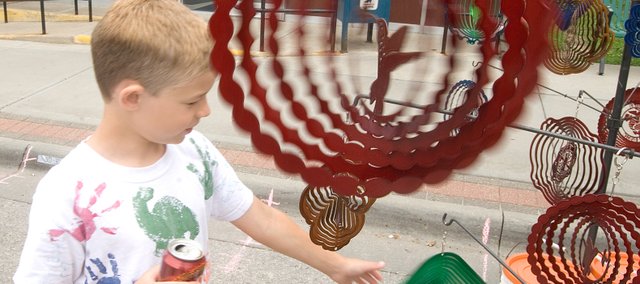 For another year Mother Nature cooperated for a successful installment of Tonganoxie Days.
With partly cloudy skies and temperatures in the mid 70s Saturday in Tonganoxie, about 100 vendors and hundreds of people lined Fourth Street to celebrate the 24th time the festival has come to the city.
"I believe people really had a good time," Connie Torneden, chairperson for the annual festival, said. "I heard a lot of good comments from the vendors and several of them want to come back next year."
While there was food, entertainment and several interesting things to see downtown, the festivities did reach throughout the city.
At Tonganoxie High School, Tonganoxie celebrity and "Survivor: Guatemala" winner Danni Boatwright was on hand to help raise money for Team Tongie, an organization set up to help Tonganoxie students and their families in times of need.
Boatwright was there to help raise money with a 38-item silent auction.
"What the city is doing is awesome," Boatwright said. "I'm so not surprised when the community comes together like this to raise money for anybody that's in need. I've traveled around the world, but this is still the greatest place that I've ever been to because the people are really nice and supportive. I wouldn't mind raising my kids here, too."
Casey Wiegmann, Boatwright's husband, was supposed to join her at Tonganoxie Days, but Boatwright said he was called to a mini-camp because he still wasn't sure about his retirement. A former Kansas City Chiefs football player, Casey Wiegmann most recently has played center on the offensive line for the Denver Broncos.
During the event, Jamie Carlisle, THS principal, called Lance Stone, father of Austin Stone, who earlier this year fell into a coma during a dental procedure, to get an update on Austin's condition.
Lance Stone said his son's condition was improving. Austin was a senior this past school year at Tonganoxie High School.
Diane Bretthauer, who is a Team Tongie organizer, said the organization was able to reach its goal of more than $2,000. A Shaquille O'Neal jersey brought in the most money, Bretthauer said.
At the Tonganoxie Community Historic Site, patrons were treated to a window into Tonganoxie's past.
Outside the museum, antique cars, including the newly restored 1936 Hollabird Pumper fire truck ,were on display.
Inside quilts, new and old, were the main draw.
Jean Pearson put on display something of a family treasure that was found and given to her family almost by accident.
The friendship quilt, which is at least 115 years old, had the names of Pearson's great grandmother. A.L. Horton, and Horton's sister Hattie Horton.
There was something familiar when Pearson's mom looked at the quilt.
"She knew a lot of the people," Pearson said. "They lived north of where she grew up."
Pearson said her family was from northern Morris County near Council Grove.
She believes the quilt was bought by an antique dealer who must have bought the quilt in an estate sale in the county before her mom's friend bought it.
She currently keeps the quilt well protected and only brings it out when company wants to see it.
She said she knows a woman in Emporia who also has several relatives who wrote their names on the quilt and may give it to her.
Other events at Tonganoxie Days were the annual barbecue contest, car, truck and tractor show, Flag Day ceremony, a Bingo fundraiser and a fireworks display for the second consecutive year. Coverage of the Friends of the Library Fun Run and Walk can be found in the sports section of today's edition of The Mirror.
Next year will mark the 25th installment of Tonganoxie Days and Torneden said she wants to do something special.
"I'm going to try to get some special things going, maybe get a commemorative T-shirt or something to mark the 25th year," Torneden said. "I'm already getting some ideas and taking notes to get something in the works."