Grizzle sticks to it
THS

senior honored as all-area girls track athlete of year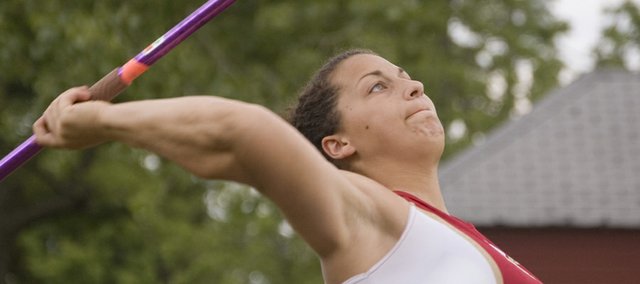 There was a point early this spring when Roni Grizzle became impatient with throwing. The Tonganoxie High senior felt like she wasn't improving in any of her three field events — discus, javelin or shot put.
It wasn't that her skills deteriorated. They simply were at a standstill. That frustrated the hard-working Chieftain.
"It was hard to think good thoughts," Grizzle recalled.
Never one to give in to negativity, Grizzle remained meticulous in her craft.
It paid off. Grizzle started winning — big. Twice, she earned gold medals in all three throwing events at the same meet, pulling it off for the first time on May 1 at Gardner-Edgerton and repeating the feat 12 days later at the Kaw Valley League Championships. At the state meet in Wichita, Grizzle won Class 4A silver in the shot put and bronze in the javelin. It was all that success that led to her latest award as the THS thrower was named the Lawrence Journal-World's All-Area Girls Track Athlete of the Year.
Grizzle has been throwing since middle school, when she got an introductory course in propelling objects through the air. Her older sister, Ryan Frame, then in high school, went to practice discus and shot put at the end of each school day. Grizzle went with her because Frame was her ride home. Before long Grizzle was competing with other youths in the same events during the summer.
As she grew older and stronger, Grizzle discovered the secret to each throwing event, and added the javelin to her repertoire.
"The shot put is muscle and form," Grizzle explained. "The discus is all form — it doesn't matter how much muscle you have. And the javelin is a combination of both."
Complete understanding of the art, however, didn't lead to an unbroken love of the three throwing events. Asked to rank them from favorite to least, Grizzle placed shot put No. 1, javelin No. 2 and discus a distant third.
"Me and the discus have never really gotten along," Grizzle joked, noting she still has trouble perfecting her steps. "I'm not bad, but it's not what I'm good at."
When Grizzle threw the disc at state, the object she hurled again proved antagonistic. Her best throw wasn't good enough to get her in the finals.
"No matter how hard I threw it, it went like two feet," Grizzle exaggerated, "so I was really mad."
She found an outlet for her anger the next morning, though, when she threw the javelin 144 feet, 10 inches — a personal best. Grizzle called that May morning the highlight of her season, a far cry from those early, stagnant weeks of April.
A few days after state, Grizzle signed to throw for the University of Nebraska, where her older sister Roxi competed as a freshman this past season. At Lincoln, Grizzle expects to compete in the javelin and perhaps take on a new throwing event — the hammer.