King playground
McLouth gets 'new' recreation facility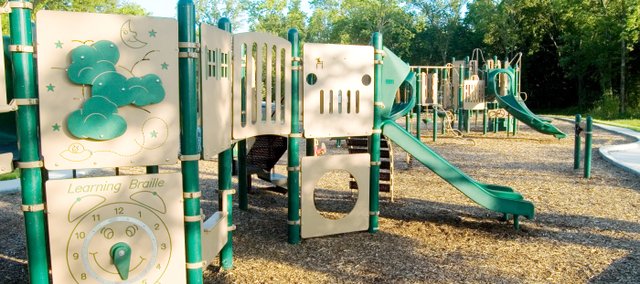 Cliff Weeks, McLouth Recreation Commission committee member, was interviewed about the new King Playground, which will be dedicated at 7 p.m. Friday in McLouth.
Q: What prompted getting the ball rolling for the King Playground in Rose Park?
A: King Construction was doing a project in Overland Park in which this playground was being removed. We found out about it from them and we struck a deal on the playground. They disassembled it there in Overland Park and brought it over to Oskaloosa and we retrieved it from there.
Q: What was the timeline for making the King Playground a reality?
A: It started last fall. We brought the pieces over here to my yard and assembled it and picked it up on Bobcat trailers and finished assembling. It's been an ongoing project since last fall.
Q: What type of amenities can children find at the park?
A: It's set up for handicapped availability. There's a ramp to one of the structures. You can go up on one of the playground structures. There's a sidewalk all the way around it. Swings, slides, rocking horses, educational boards, one with planets and a Braille alphabet beside it. It's both educational and a playground for kids. Fire pole, climbing mountain. Two separate pieces of playground, one for younger kids and another for a little older kids. There are infant swings to adult swings on the swing set so we've tried to make it for all ages.
Q: Who was the playground named after and why?
A: It was named after Bud King, who founded King Construction and has also been very helpful to the community. He was on the school board here and he was always a good neighbor to everybody. I remember Bud as a good neighbor and helping the community grow. He passed away in February 2007. The company did the sports complex. The family grew up in this community, so we felt it was quite appropriate to name it after Bud King. His wife and family will be there at the dedication.
Q: What other improvements were done to the park?
A: Drainage work was done, a sidewalk around the playground was constructed, grass was planted and park benches made of recycled material were put in place. A gravel parking lot was created and decorative rocks were situated between the playground and the parking lot.