Pammy Sue's calling it quits Friday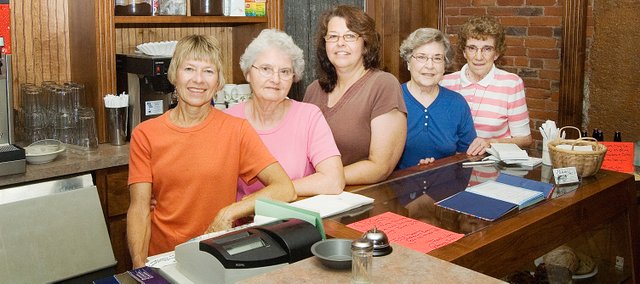 Some might say Pam Phillips is part culinary wizard, part psychologist.
After all, customers have given the owner of Pammy Sue's in Tonganoxie the nickname of Dr. Phil-lips.
"Men's mid-life crises, marriage advice," Phillips said, rattling off a couple examples of inadvertent counseling she's taken on during her time at the downtown restaurant.
For six years Phillips, who was a longtime Tonganoxie Elementary School cook, has been serving up breakfast, lunch and advice.
But at 2 p.m. Friday, she'll turn the sign over to "closed" for the final time, as she'll be retiring from the restaurant business.
"It was a decision I didn't want to make," Phillips said. "But my hand was forced, and I had to make a tough decision.
"Everyone's cutting back. And you don't have the consistency to make head-way. It's nobody's fault. It is what it is."
The tiny shop started in 2003 at the northwest corner of Fourth and Main streets. The restaurant and bakery then moved across the street in 2005 to its current spot at 628 E. Fourth St.
Phillips initially went into business with Susie Snapp, another former school cook. But a few months later, Snapp got out of the business.
"It just was not good timing; they had just built a house," Phillips said. "We still see each other. Our grandkids are on the same T-ball team."
Phillips moved into the new location on Sept. 20 — the same day as her wedding anniversary.
"My husband had the day off," Pam Phillips said about her husband, Ron. "He washed dishes for us. That's how we spent our anniversary."
A well-known eatery
Pammy Sue's has had its share of loyal customers, some of whom have taken her food across the globe.
After Danni Boatwright won "Survivor: Guatemala," she asked Phillips for a basket of goodies to take to her appearance on "Regis and Kelly."
On another occasion, a soldier was home on leave from Iraq. He asked for small loaves of banana nut bread to take back to the Middle East. Another customer requests apple walnut bread when she goes home to Georgia, while another family orders hoagie buns for football games.
"I'll still do that for them," Phillips said.
Phillips also noted the restaurant has been mentioned twice in obituaries as a place they always enjoyed having a meal, and it served as the site for a 101-year-old's birthday party.
Sometimes her baking brings much-needed comfort as well.
A customer ordered one of Phillips' cinnamon rolls because they reminded him of his late mother's rolls. The customer had just found out he had terminal cancer.
"It's things like that which are worth so much more than money," Phillips said.
An experienced group
Phillips' staff consists of several other cooks with experience at Tonganoxie Elementary School lunchroom — Carolyn Kraus, Orvella Schultz and Mary Theno all put in plenty of years in serving meals at TES. Another former TES cook, Terri Beach, formerly worked at the restaurant. Another current employee, Jeanie Williams, is a retired TES teacher.
"We've had a lot of years working together," Phillips said. "We've always clicked and worked well together."
A favorite at the elementary school — the peanut butter twist — made its way into the pastries and sweets category of the Pammy Sue's menu.
On the meal side, munchies, soups, salads, burgers, sandwiches and wraps all grace the menu, but there's a clear-cut best seller that is a Tuesday special — oven-fried chicken. Phillips said she sells 30-40 of the special each week and oftentimes sells out, which was the case this Tuesday.
Tonganoxie police Chief Ken Carpenter and clerk Sandy Koontz, regulars at the restaurant, had their final oven-fried chicken Tuesday. Carpenter said he usually eats lunch three to four times a week there. Koontz put a disclaimer on those numbers, noting the eatery isn't open on Mondays, so it would be an even higher number if that were the case.
Asked why the oven-fried chicken was his favorite, Carpenter said "It's just good," in between bites of chicken with mashed potatoes and gravy. "But all meals here are good actually."
Koontz. said there was a sense of family at the restaurant, as you get to know other fellow regulars and can sit down to a home-cooked meal. She mentioned one person she has seen often at the restaurant "didn't know him from Adam" until she started eating at Pammy Sue's. But now, they chat on a regular basis, connected by the restaurant.
As for Carpenter and his dilemma of where to eat in the future, said he would probably "spread it around more" when choosing where to eat lunch after Friday.
What's next?
Phillips said she and her husband are raising produce in their garden and would like to sell at farmers' markets.
And baking won't be out of her blood anytime soon either, as she said she would bake various breads and pastries upon request.
Loyal customers started a journal of entries for Phillips. A couple women, who call themselves the Chicken Salad Ladies because that's the item they always order, gave words of encouragement, while another thanked Phillips for her thought-provoking discussions.
Phillips said she has contemplated closing for some time and finally came to the decision.
"It's been a lot of fun. It's just something I really don't want to do," Phillips said. "I've shed quite a few tears over it. I just felt like it was a business decision that needed to be made.
"We've met a lot of great people and I feel like I've got a great family down there. I'm going to miss everybody."