Governor names Leavenworth company exporter of the year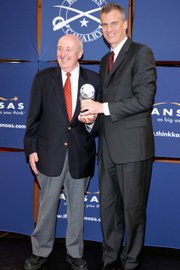 Overland Park — Thursday night, Gov. Mark Parkinson named Cereal Ingredients the Governor's Exporter of the Year at the annual Kansas Cavalry Encampment at Johnson County Community College. BTI of Greensburg was named the winner of the Governor's Award of Excellence.
The two awards are the state's top business honors and serve as the highlight of the Kansas Cavalry Encampment, the state's annual celebration of Kansas business. The event is sponsored by the Kansas Cavalry, a volunteer group of business leaders who promote Kansas as a business location, in conjunction with the Kansas Department of Commerce.
"We are honored to present BTI of Greensburg and Cereal Ingredients of Leavenworth with the state's top business awards," Parkinson said. "These companies embody Kansas ingenuity and values, and they illustrate what a great place Kansas is to live, work and do business."
Cereal Ingredients is a privately held, employee-owned specialty ingredients manufacturer dedicated to the development, production and support of unique cereal-related products. Cereal Ingredients has seven worldwide ingredient and process patents and has filed for four additional patents. It exports nearly 30 percent of its products to 19 countries and has increased its export sales by 76 percent from 2005-08. The company produces food particulates that add flavor, texture and color to baked goods and ready-to-eat cereals, as well as preblended mixes to create added flavor and swirl effects in bread products.
Great Western Manufacturing, also of Leavenworth, was among the five finalists for the exporter award. The other finalists were Research Products Company, Salina, Bio-Microbics Inc., Shawnee, and Euronet World Wide Inc., Leawood.
Great Western Manufacturing was founded as a foundry in 1858 – manufacturing steam engines, repair parts for steam boats, and wood burning stoves. It is the oldest operating manufacturing firm in Kansas. Today, Great Western Manufacturing supplies sifting and screening equipment for the flour milling industry, and cereal-grain processing industry, as well as bakery and other dried products divisions. These products are exported to more than 50 countries, representing every continent except Antarctica.
Cereal Ingredients and Great Western Manufacturing were nominated by Leavenworth County Development Corp.