'

Green' energy focus of 4-H tech camp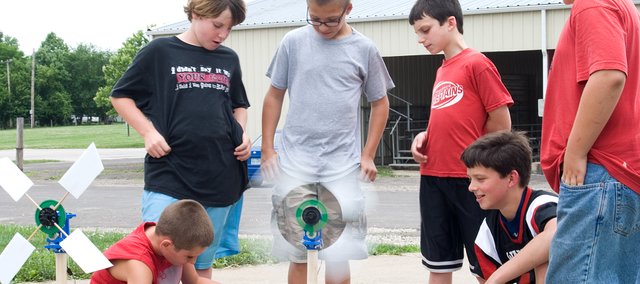 If you're ever stranded on a deserted island there are a few thing you will need to survive, among them might be a 4-H'er.
Just ask 4-H assistant Brenda Taxeras, who taught the 10 campers how to generate electricity using wind power, solar power, and how to harness the power of the sun to cook food and warm water for showers.
"If you were in a place where you had the right tools and the equipment, but you did not have electricity or flowing water, we could make it more comfortable to live," Taxeras said. "They can create those things now because they have the skill and knowledge."
To do that Taxeras spent the three-day camp teaching the 4-H'ers the basics of simple machines by letting kids build catapults, and then moved to more advanced subjects like setting up photovoltaic cells and getting the right gears, blades and pitch angles for their wind turbines.
Beth Hecht, 4-H youth development agent, said the goal of the tech camp was to "whet the appetite" of these kids to learn about science, engineering and technology.
"By exposing them to these hands-on activities in a fun learning environment we hope they develop a more inquiring mind about science and want to pursue it in the future," Hecht said. "It may open their minds to future educational and employment opportunities that they had not previously considered."
The new focus on renewable energy was a change from previous tech camps.
For the last three years, robotics and aerospace engineering were the main focus. 4-H'ers took a shot at building and programming robots as well as learning the principals of flight and eventually building and launching rockets.
Hecht said nationally, 4-H is putting more of a focus on science, engineering and technology because it doesn't want future generations to lag behind the rest of the world in those fields.
Carl Hecht, Beth Hecht's son, attended last year's camp and this year's camp. He said he said he learned a lot about renewable energy and liked building the wind turbines better than the robots.
As for now Taxeras and Hecht are already making notes on some new things to include in next year's camp.
"While we're not exactly sure what future 4-H Tech Camp programming will look like, we are passionate about providing opportunities for youth in our community to explore and learn of the growing demand of good citizens pursuing careers in science, engineering and technology," Hecht said.
The Leavenworth County 4-H will play host to a robotics camp for fifth, sixth and seventh graders July 21 and 22 at the Lansing 4-H building. A registration flyer is available at www.leavenworth.ksu.edu or can be requested by calling the Leavenworth County Extension office at (913) 250-2300.