McLouth house destroyed in fire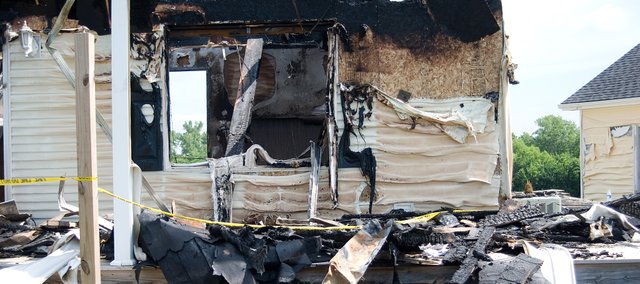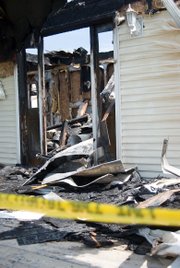 McLouth — McLouth Fire Department officials still are unsure of what caused a fire that destroyed a home in the 20100 block of 82nd Street.
On Tuesday, Carl Chalfant, McLouth Fire Department chief and city superintendent, said no cause for the fire has been determined and the Kansas State Fire Marshal's office was still investigating.
Firefighters responded to the fire after receiving the call just before 4 p.m. Thursday. The fire was reported by a passerby traveling on Kansas Highway 16. The home is visible from the highway and from the eastern McLouth city limits.
Chalfant said the fire had already spread by the time they arrived.
"When we got up there, the upstairs had already imploded to the downstairs," he said. "At that point it was a totally defensive fire."
Chalfant said Glen Owens, the homeowner, was on his way back from work when the fire started.
Because of the hot weather and the heat of the fire, firefighters from nine other departments came to assist in putting out the blaze. In total, more than 70 emergency personnel were on scene to assist.
"In that kind of heat firemen weren't lasting 20 minutes," Chalfant said.
Once a firefighter was too hot, he would be rotated out and taken to an ambulance and given a chance to cool down before being rotated back in. Chalfant said the fire was under control by 5:30 p.m.
Assisting in the fire were members of the Rock Creek, Tonganoxie, Sarcoxie Stranger and Alexandria Townships, Leavenworth District One, Tonganoxie, Oskaloosa and Winchester city fire departments.
The Red Cross also was standing by to supply refreshments to the firefighters.
Nobody was injured in the fire, but Chalfant said one firefighter was taken to a hospital to be treated for overheating. He was released later that day.
Chalfant said the state fire inspector was there Friday to try to determine the cause of the fire, but Chalfant said he doesn't expect to know what started the fire for a few days.
Chalfant said the second floor of the six-year-old house was not completed and did not have sheetrock installed, which may have allowed the fire to spread faster.
"When you get that much damage it's just really hard to pinpoint where the fire started," Chalfant said. "It all just flashed instantly."
The homeowner could not be reached for comment.