Hot streak: Post 41 wins 11 straight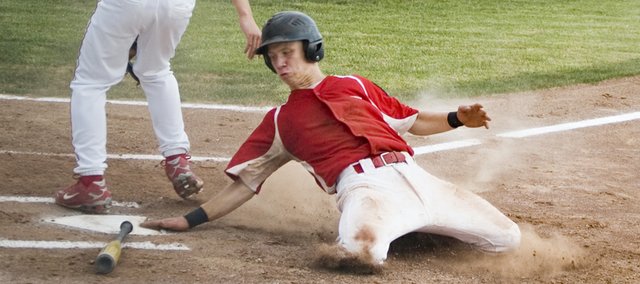 With two wins apiece on Friday and Saturday and a split with the Leavenworth Knights on Monday, Tonganoxie's Post 41 baseball team has won 11 out of its last 12 games after starting the season 0-3.
The 11-game win streak was a far cry from last year, when Tonganoxie won eight times all summer.
There's no real secret to why Post 41 (11-4) has improved so much this season. Coach Pat Bailey said his team simply has a healthy mental approach.
"They're just confident in themselves, believe in themselves," Bailey said.
And, the coach quickly added, the roster has a little more talent on it.
"That helps a lot, too," Bailey said with a chuckle.
New additions such as Blaize Oelschlaeger, Tucker Hollingsworth and Mark Stewart have played an important role in the turnaround, along with the production of returning players such as Brett Bailes, Ryan Stockman, Grant Ebbert, Kyle Newton and Corey Klinkenburg.
Bailes said the team's confidence has taken off during its hot streak.
"Our teammates believe in each other," Bailes said, indicating that was rarely, if ever, the case last year.
Covered in mud, filthy from head to toe following Post 41's sweep of the Lansing Reds on Saturday at Leavenworth County Fairgrounds, Bailes embodied the team's new attitude.
"We come out here to play and we're determined to win," he said.
Even when the team got into a jam in the first game against the Reds, Post 41 found a way to win, 9-8.
Things were going smoothly and Tonganoxie led, 6-2, after five innings before the wheels temporarily fell off.
Starting pitcher Jake Stauch had been solid through five but ran into trouble in the sixth, walking two batters, giving up three hits and allowing two runs. Reliever Jeremy Wagner entered with one out and the bases loaded but Lansing added four runs to take an 8-6 lead.
Post 41 cut the deficit to one in the bottom of the sixth. Stockman singled to start the inning and later scored when Lansing committed an error on a grounder.
Oelschlaeger led off the bottom of the seventh with a triple to the right-field gap. He scored on a fielder's choice to tie the game. Later, after two intentional walks, Stauch drove Bailes in with a sacrifice fly.
In the top of the seventh, Lansing was in position to extend its lead with the bases loaded and one out. But Oelschlaeger came in and struck out two to get the win.
Post 41 then made quick work of the Reds in the second game Saturday, winning 11-0 in four innings.
Tonganoxie scored four runs in the first. Bailes led off with a single and stole second. After an infield hit from Klinkenburg, he and Bailes pulled off a double steal, which scored the leadoff hitter. Oelschlaeger then drove in Klinkenburg with a single to center. Stockman scored Oelschlaeger on a two-run, line-drive homer to left.
A five-run fourth put the game away for Post 41. Seven straight batters reached first, and Klinkenburg, Ebbert, Stockman and Jeremy Wagner drove in runs.
Oelschlaeger threw all four innings and struck out seven, including three in the fourth.
Bailey said he had been trying to re-recruit Oelschlaeger to the team for the last couple of seasons and is glad to have him back after a two-year hiatus. Post 41 was 0-3 when Oelschlaeger joined the team. His coach said his hitting, speed and pitching have been a boon for the team.
"He doesn't like to lose," Bailey said. "That rubs off on people, too."
Post 41 won, 14-6, against Leavenworth on Monday night to extend its win streak to 11 games but fell, 18-8, in the second game of the twinbill.
Tonganoxie next plays on Wednesday against Easton at Leavenworth.