Matches tough at summer wrestling league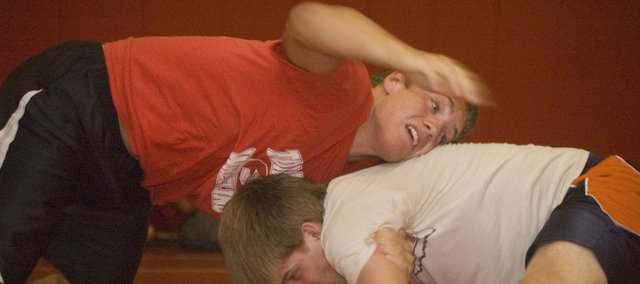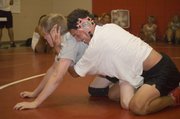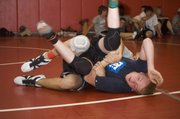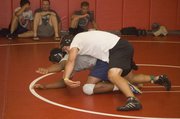 When Tonganoxie High wrestling coach Jeremy Goebel created a summer league a few years back, he just wanted to give the Chieftains more opportunities to compete and grow.
"You want to be as competitive as possible in the summer and wrestle some competitive teams," Goebel said.
The Unlimited Fitness Wrestling League, which just wrapped up its third year on Thursday night at THS, gave Tonganoxie wrestlers plenty of chances to improve as they competed with more than 60 wrestlers in the 14-team league.
The UFWL, which met every Thursday night in June with an hour of technique followed by two to three matches for each wrestler, became even tougher this year with five-wrestler teams from Holton and Topeka-Seaman joining squads from THS, Eudora, Lansing, Piper, Pleasant Ridge and Immaculata.
Goebel was happy to have Seaman and Holton as new additions traveling into town.
"It was great because hopefully that opens some more avenues for some other schools to come (next year)," the THS coach said.
Both of the schools, Goebel added, brought "very good wrestlers" to the league, making a huge impact. The final team standings backed that up as Holton took first with 201 points and Topeka-Seaman finished second with 179 points, 47 ahead of third-place Cardinals No. 2, from Eudora.
Jeremie Maus, who will be a senior at THS this fall, has wrestled all three years in the league and has enjoyed watching it grow from its early stages, when just 25 wrestlers participated.
"Seeing all the people here now from Holton and everywhere else, that's awesome," Maus said.
Maus said competing against talented grapplers from other schools made an immediate impact.
"Everybody's improved, even from other schools. I love that we do this every summer because it just gets people out on the mat," Maus said, adding the league will pay off in the long run as well. "The season comes faster than you know it."
Caleb Himpel, a rising THS sophomore, said the number of experienced and successful wrestlers in the league — including state-placers and ranked grapplers — make it an important learning experience because even if a wrestler loses a match to one of the top wrestlers, it makes him better and he can use what he learned to win his other matches.
"It's a good workout over the summer," Himpel said. "It refreshes you and gets you ready for next season."
Although THS had three teams in the league, a number of wrestlers didn't compete every week. Tonganoxie No. 2, which finished seventh, ended up being the school's top team. However, Goebel wasn't overly concerned about that given the young makeup of the Tonganoxie squads.
"A lot of our young guys got a lot of good mat time, some good experience," he said.
Along with Maus and Himpel, Goebel said sophomore-to-be Jonas Myers emerged as a promising wrestler for THS, likely at 189 pounds.
Goebel also praised Hank Somers and Tyler Hand for their dedication and improvement.
"They did some good things and showed some competitiveness out there in terms of scoring points and winning some matches," Goebel said.
Unlimited Fitness Wrestling League
Team, total points
1. Holton, 201
2. Topeka-Seaman, 179
3. Cardinals No. 2, 132
4. Cardinals No. 1,131
5. Lansing No. 1- 112
6. Piper No. 2, 88
7. Tonganoxie No. 2, 85
8. Cardinals No. 3, 76
9. Pleasant Ridge, 69
10. Tonganoxie No. 3, 51
11. Lansing No. 2, 42
12. Tonganoxie No. 1, 37
13. Piper No. 1, 34
14. Immaculata, 9