Volleyball camp gets competitive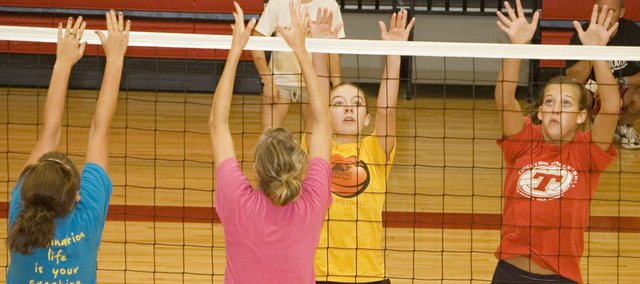 Photo Gallery
2009 Tonganoxie High volleyball camp
Players honed their skills and competed for roster spots from June 22-25 at Tonganoxie High volleyball camp.
At the first session of Tonganoxie High's four-day volleyball camp this past week, the players were just going through the motions.
That changed in a hurry, though, when the 37 campers caught on to what was on the line.
"Then we realized that freshmen through 12th-graders needed to pick it up because we're competing for spots," said THS senior-to-be Abby Eisman. "It doesn't matter if you're a freshman; you can play varsity."
That led to a very competitive camp.
"Everybody picked up their game like four times from what we were in the beginning," Eisman said.
When players with varsity experience such as Eisman, Molly O'Hagan, Danielle Miller and Maggie Franuik felt a push from players looking to take their spots, they were ready to respond to the challengers.
"People were diving, people were getting after it," THS co-coach Brandon Parker said.
The program is deeper now than it was a year ago, Parker added, because of its large sophomore class and the infusion of a talented freshman group with some players really challenging for playing time.
"We're not stuck with like one person in a position," Parker said. "We're probably three deep and deciding on every spot. That makes a difference, too."
Even if young players do want to supplant them, Eisman said the upperclassmen view that as a positive.
"We'd much rather have them because it pushes us, too, to want our spots," Eisman said. "We're not going to let a freshman take our spots. We're gonna work for it.
"Everybody wants it and everybody wants to play, so everyone was competitive throughout."
Franuik said the pressure to win a position was unmistakable.
"It's tough, it really is," Franuik said. "There's a lot of good players out there and you don't know who's getting what spot and you just have to go your hardest."
The camp's energy, co-coach Tiffany Parker said, was high throughout thanks to the players' intensity.
"When we have energetic kids in the gym, the whole atmosphere of camp changes," she said.
The co-coach complimented Tonganoxie's youngest players for being just as active and vocal as the experienced ones.
"If we can have competitive kids in our freshman class, that just pushes everybody ahead of them," she said.
Brandon Parker said the drive displayed by the Chieftains was the camp's highlight. The co-coach said he could see the players fighting for positions, and he liked that.
"I think they're really pushing each other," Parker said, "for whatever team it may be — freshman, junior varsity, varsity."
The struggle is likely to continue through the next few weeks of workouts, and even into fall practice, set to begin Aug. 17.