And … exhale: Chieftains recover for sub-state win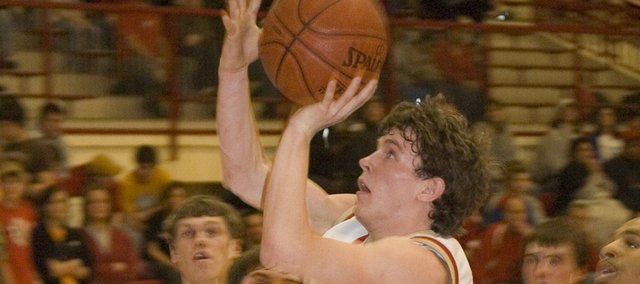 The Tonganoxie High boys basketball team took a collective sigh of relief on Monday night.
After a first half filled with uncharacteristically wild shots, erratic passes and bad turnovers, an eight-point halftime deficit to a road underdog turned into a rout late as the Chieftains rallied for a 62-43 victory against Atchison in a first-round sub-state matchup.
Tonganoxie looked crammed-into-a-suitcase tight in the first half and trailed by double figures at times. Coach Shawn Phillips said the team didn't handle things well, which led to a boatload of miscues.
"I don't know that we were focused on what we needed to do," Phillips said, adding that a favored team (Tonganoxie is the No. 2 seed in its bracket) needs to perform better in such a game.
The first-year coach said he hadn't seen his team look so skittish since its Red-White scrimmage in November.
"We tried to force a lot of things in the first half where we didn't play the way that we'd played all year long," Phillips said. "We weren't quite mentally ready to go and once we turned it on, we played like we're capable of."
Indeed, a potential nightmare turned into a stroll in the park once the Chieftains got things together in the second half and closed the third quarter with a 14-0 run against No. 7 AHS.
The difference maker in the run was senior center Austin Smith, who missed close to 10 minutes of game action in the first half with two fouls.
The early foul trouble angered the pivot, who loudly let his teammates know at halftime that they needed to turn things around in a hurry.
"There's nothing worse than watching your team go through rough times and not being able to play like you know they can play and you can't do anything because you're stuck on the bench," Smith said, calling it the worst scenario in basketball.
Down 10 2:08 into the third quarter, Tonganoxie (13-8) started attacking inside and firing on all cylinders with Smith as the centerpiece in the third quarter, when he scored eight of his team-high 14 points. With him in the mix, the Chieftains were able to save what looked like a sinking ship as Smith combined with Jace Waters, Brandon Yoder and Dylan Scates to outscore Atchison 18-6 in the period.
Smith picked up his third foul 51 seconds into the third, but Phillips left him in, THS started clicking, and Smith forced Atchison's big man to the bench with foul trouble.
Smith's two free throws with 2:00 to go in the third tied the game at 32. Half a minute later, junior forward Yoder swept in for a transition layup off a pass from point guard Jeremy Carlisle (five assists) that put the Chieftains ahead for good.
Carlisle said that second-half explosion was relieving.
"It felt great for the team just to play how we usually do," he said, noting the importance of erasing the 18-point first half from the THS memory bank with a 44-point second. "That's how we expected to play this whole game."
When things looked worst for Tonganoxie, down double figures late in the first half with Smith and Keaton Schaffer on the bench with foul problems, Carlisle kept his team in the game with six points in the final three-plus minutes of the second quarter.
"I figured I had to do something to get our team back on track," the sophomore floor general said.
Once THS was up a few baskets in the fourth, Schaffer got going and poured in 11 of his 13 points. Waters, who had five steals, also picked it up in the fourth as he scored six of his 10 points on lay-ins.
After grabbing his first postseason win, Phillips said THS has to avoid such a lackadaisical start in its next contest on Thursday against Holton.
"I hope that first half shows us that anything can happen on any given night," the coach said, adding that the Chieftains could lose to anyone if they don't come out ready.
As Carlisle said, if they were going to come out stale, the opening round versus a 3-17 team was the opportune time to do so.
The Chieftains on Thursday go to Perry-Lecompton, where they will face Holton, who defeated Jeff West on Monday, in a sub-state semifinal.
Score by quarters
Atchison 9 17 6 11 — 43
Tonganoxie 6 12 18 26 — 62
Tonganoxie scoring:
Jamie Everett 2, Keaton Schaffer 13, Austin Smith 14, Brandon Yoder 8, Jeremy Carlisle 6, Justin Jacobs 4, Jace Waters 10, Dylan Scates 3, Dane Erickson 2.