Slow start sours Senior Night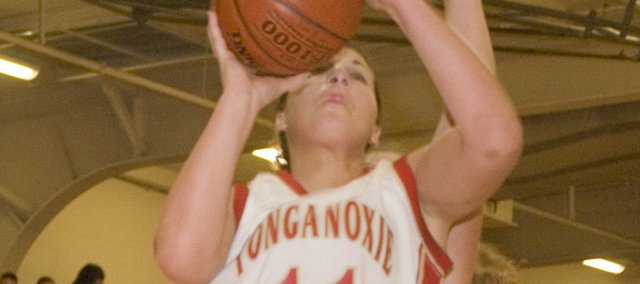 As far as Senior Nights go, the Tonganoxie High girls basketball team couldn't have had a much more discouraging outing.
Not only had senior forward Roni Grizzle been sick all week leading up to Friday's home game with Piper, but the Chieftains also missed shots they would usually make and found themselves down 11 before they could get on the scoreboard, eventually falling to the Pirates, 54-36.
THS coach Randy Kraft said throughout the early drought, he wasn't concerned, and he told the Chieftains they were playing well.
"We missed shots," the coach said of the difference in the game. "We ran our stuff and got great looks at the basket."
Moreover, the Pirates hit shots the Chieftains wanted them to take, converting six three-pointers.
"They were hitting shots we didn't really expect them to hit," Kraft said. "They shot a pretty good percentage from outside, and it was kind of the difference in the game."
Tonganoxie scored its first points 5:49 into the loss when junior guard Lauren Hall hit a three. The team's only other first-quarter bucket came with :02 left when senior point guard Chrissie Jeannin found Andie Jeannin for a three.
Grizzle said the Chieftains seemingly couldn't get a break.
"I really don't know what happened earlier (in the game)," she said. "We weren't hitting any shots … nothing was happening for us, nothing was going in our favor."
The whole game for Grizzle, who had to keep subbing in and out because she wasn't at full speed and occasionally felt ill, was irritating, as she was held to 10 points.
"Things just weren't happening," she said. "I wish I just could've played and played well. It just wasn't going my way."
The setback, Grizzle added, was especially disappointing because it put Tonganoxie (14-6 overall, 9-4 Kaw Valley League) fifth in the final KVL standings while a victory would have meant a tie for second place.
Eventually, THS was able to make things interesting. The Chieftains used an 11-2 run — featuring baskets from the team's two seniors and Andie Jeannin — that started halfway through the second quarter to cut Piper's lead to three with 5:58 remaining in the third. However, Piper responded with an 11-0 run and the Chieftains couldn't get back in striking distance.
The biggest problem in the 18-point home loss, Kraft said, might have been the mental state of the Chieftains.
"I don't think they played with the emotion they had been playing with. It might have contributed to our poor start, early shooting," Kraft said. "Even when we made our run and came back, we didn't play with that emotion."
The coach said the timing of the game (just a few days after sub-state brackets were announced) might have made it difficult for THS to come out completely focused on its final game of the regular season.
The Chieftains' lone seniors — Chrissie Jeannin and Grizzle — were the only players to score in double figures for Tonganoxie. Jeannin had 12 and Grizzle added 10. Kraft said the pair, who are Tonganoxie's top two scorers and rebounders this season, have carried the team.
"I don't even want to think about them leaving," Kraft said.
Reflecting on the moment minutes after the game, Grizzle said Senior Night had its peaks and valleys, calling it "awesome" in one breath and "sad" in another.
"I just really wanted to go out with a bang," Grizzle said.
Playing varsity for three years, their coach said Jeannin and Grizzle have meant a lot to the THS program.
"They've put their heart into it," Kraft said. "I just wish them the best, and hope they go out on a real high note for their sake."
Grizzle agreed, and said the team was excited for sub-state, adding that she was looking forward to playing at full strength.
"We're going to use this loss," Grizzle said.
Tonganoxie's sub-state tournament opens on Tuesday night at 6 p.m. when the Chieftains play host to Hiawatha (6-14) in a first-round contest.
For more on that game, visit The Mirror online Tuesday evening.