Tonganoxie seniors enjoy exciting night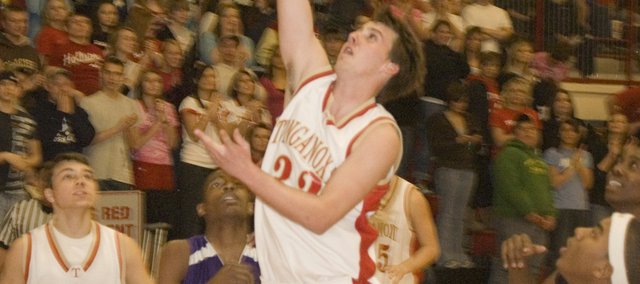 Before he and his three fellow Tonganoxie High seniors took the floor Friday night, Jamie Everett told his teammates that they would never forget Senior Night.
Little did he know how right he would be.
The Tonganoxie boys basketball seniors ended their final regular-season game in dramatic fashion with a 65-64 victory against visiting Piper.
"We made it really memorable by winning by only one point," Everett said after scoring 12.
When all four THS seniors started and scored, and the Chieftains led by 12 in the third quarter, Everett, Rob Schlicht, Austin Smith and Jace Waters didn't think their Senior Night would be so close, but they were more than happy with the result.
"Not quite how we planned on it," Waters said, "but we pulled it out, so that just made it more exciting."
The Chieftains got their final points of the game with :49 remaining when Waters, under pressure on the left wing, found Smith cutting backdoor and hit him in stride for an uncontested layup that put Tonganoxie ahead, 65-61.
The Pirates responded immediately with a three-pointer from the left corner by Russell Loomis that cut the THS lead to one with 39 seconds to go.
Tonganoxie then turned the ball over with :17 remaining, giving Piper another chance. After missing a shot with five seconds left, the ball was knocked out of bounds off THS, and Piper set up an inbound play with :02 to go.
The Pirates, though, never got a shot off as sophomore THS guard Jeremy Carlisle deflected the inbound pass.
Carlisle's offense, especially in the second quarter, when the point guard hit a pair of threes and scored 10 of his 19 points, helped Tonganoxie improve to 12-8 overall and 8-5 in the Kaw Valley League. Against a lot of trapping and pressure, he often broke down Piper defenders and found layups for himself or his THS teammates. Not bad for an underclassman, Chieftains coach Shawn Phillips said.
"The fact that he's only a sophomore is pretty amazing," Phillips marveled. "He does a great job of finding people in the open floor. When you've got a guy that can split a double team, it makes that press break a whole lot easier."
And eking out a win comes easier when your senior center dominates the backboards, as Smith did on his way to 13 points and 17 boards.
"He does that a lot," Everett said. "He just tears down the boards."
Phillips said his team calls Smith "The Beast," and he needs to be fed inside.
"If we can do that," the coach said, "usually we're pretty successful."
Thanks to the play and adaptability of Tonganoxie's seniors this year, the Chieftains will post their first winning record since 2001-02. Phillips said their acceptance of him was paramount.
"Any time a new head coach comes in, the senior class is always a big question mark," he said. "Are they gonna believe in what you're trying to do? Are they going to be positive about things? And this group has been great. They've been very coachable."
Everett said the seniors believed in Phillips from day one and were eager to follow him and bring success to the program.
"The whole team has done a good job of developing and working to do what the new coach wants," Everett said.