Chieftains run away from Hiawatha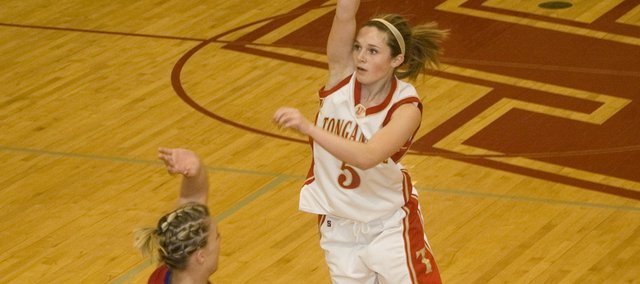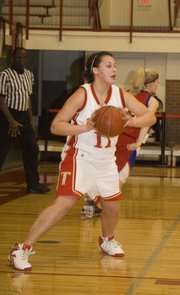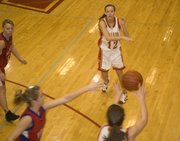 It has been said that basketball is a game of runs and Tonganoxie High's girls basketball team didn't do anything to dispel that adage in its sub-state opener against Hiawatha with one run after another in a 61-27 home win.
THS opened with a 12-2 surge and after Hiawatha (6-15) stopped that spurt with a basket to cut the lead to eight, Tonganoxie went on a 6-0 burst and led by double digits the rest of the way.
As individuals, the Chieftains also showed spurt-ability. Danielle Miller and Andie Jeannin scored five apiece in the first quarter. Chrissie Jeannin contributed eight in the second, the same period that Roni Grizzle chipped in six and Haley Smith scored five. In the third quarter, Lauren Hall drained two threes for six points.
Tonganoxie went on an 8-1 run and a 9-2 run in the second quarter and had another 9-2 run in the third.
The eruptions shot the Chieftains (15-6) into a sub-state semifinal with ease thanks to a hot start that featured great ball movement and energy — two things that THS coach Randy Kraft said were the difference in the game.
"When we moved the ball well, usually it went in and usually we got really good shots," he said.
Showing some hardwood gusto didn't hurt either.
"The other thing was the enthusiasm they played with," Kraft said, noting a recent lack of zest had hurt THS, and he was glad to see the opposite against Hiawatha. "The enthusiasm was out there, the effort, and they were having fun."
Chrissie Jeannin said the team had talked about using emotion the last few days at practice and it paid off in the 34-point opening-round win.
"It's a lot easier for a postseason game because you don't want to lose, you don't want your season to end," she said.
Bobcats loom
That prospect again will rear its ugly head on Friday, when the Chieftains face rival Basehor-Linwood at Perry-Lecompton. The winner advances to a sub-state final while the loser's season will come to an end.
Kraft said Tonganoxie (No. 3 in its sub-state) has to hold on to the energy it played with Tuesday for the next few days as the team prepares for the Bobcats, the bracket's No. 2 squad. BLHS is 16-5 and beat the Chieftains by 25 at Basehor four weeks ago.
The coach said he will need Hall and Andie Jeannin — among others — supporting the team's seniors, Grizzle and Chrissie Jeannin, on offense if THS wants to advance.
"We need everybody to shoot well Friday," Kraft said.
The Chieftains, Kraft added, will need to enter the semifinal with confidence in order to knock down shots.
The coach said he and his staff will focus more on their team than specifics of the Bobcats heading into the matchup.
"For us, it's more about us — if we bring the intensity, we come and play," he said. "I think that's the biggest challenge."
Challenge or no, Chrissie Jeannin is looking forward to an exciting rivalry scenario.
"I always love playing Basehor in sub-state," she said. "Any kind of sub-state game is always fun."
Score by quarters
Hiawatha 8 5 11 3 — 27
Tonganoxie 18 22 14 7 — 61
Tonganoxie scoring:
Danielle Miller 5, Roni Grizzle 12, Andie Jeannin 11, Abby Eisman 2, Chrissie Jeannin 15, Haley Smith 5, Lauren Hall 9, Tayler Miles 2.