Despite losses, Tonganoxie wrestling duo makes a mark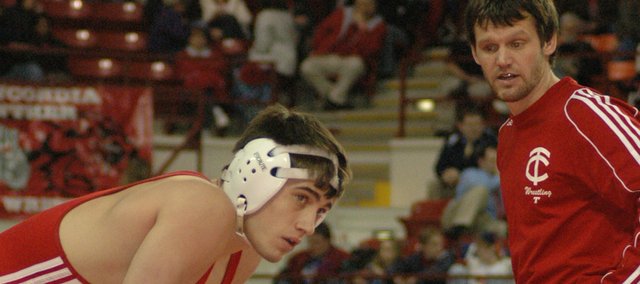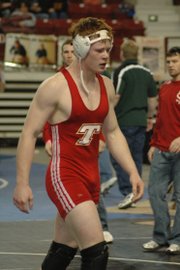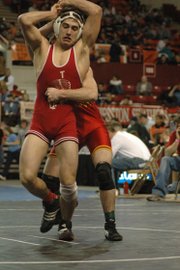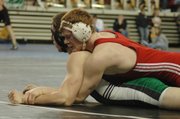 Seniors Matt Brock and Steve Davis entered the Salina Bicentennial Center this past weekend as the only Tonganoxie High representatives at the Class 4A state wrestling tournament, and although they both exited without any medals, they left a mark on the THS program.
A 189-pounder, Davis went 2-2 at state, picking up wins against Kody Scott, Mulvane, and Jordan Osladil, Ottawa, to finish his senior year with a 33-13 record. His loss in the consolation quarterfinals to Steven Skaggs, Jeff West, left him one win shy of medaling. When his career ended Saturday morning, Davis said the emotions were nearly unbearable.
"It was like the most disappointing feeling I've ever had in my life," he said. "To make it that far, all the work I put into it just came down to that one match. I ended up losing it and it was terrible."
Brock entered state as a regional champ and the sixth-ranked 140-pounder in 4A but he got a tough draw. After defeating Cody Bontz, Wichita Independent, (No. 2 in 4A) in his opening-round match, Brock lost to B.T. O'Hara, Columbus, in the second round and dropped his first consolation match to Zach Reeb, Jeff West. O'Hara took third place at state and Reeb, who entered No. 4 in 4A, finished fourth.
As a 130-pound junior, Brock finished fourth at state. He hoped to finish his career in the top three. Elimination without a medal, he said, was devastating.
"Words don't describe how upset I was," Brock said. "I really wish I could just forget that."
Even though both Chieftains were frustrated with how their careers ended, their coach, Jeremy Goebel, said their demeanor, work ethic and attitude throughout their four-year THS careers made a positive mark.
"As time goes by, they'll realize how much of an impact they made on their teammates, their coaches and our program," Goebel said.
Medal or no medal, the coach added, the wrestlers accomplished a lot by getting as far as they did and leaving everything on the mat.
"That state tournament, you look up and down those weights, everyone's got one common goal, and unfortunately in athletics there's always gonna be one that's a victor and one that's not," Goebel said.
Brock said past successes meant nothing at Salina.
"Going into state is a completely different ball game," he said. "Everyone is 0-0 so anything can happen. There were so many upsets at that tournament. It was insane."
Despite their dissatisfaction, both Davis and Brock had positives to take away from their final prep matches.
"It felt great to make it that far," Davis said. "We wrestled our hearts out. That's pretty much what we had to do — it was our last tournament."
Brock said he didn't have any regrets because he knew he wrestled as hard as he could. After taking up the sport in eighth grade, Brock considered his prep career quite a success, considering he finished with 130 victories, just two shy of tying the THS record of 132 held by assistant coach Ross Starcher.
"I have accomplished a lot more than I ever expected," said Brock, who finished his senior year 39-7.
Davis said his only regret at state was not having more Tonganoxie wrestlers there competing with him.
"I missed my teammates, just warming up with them and watching them wrestle and cheering them on," he said.
Colby won the 4A team title at Salina with 129 points. Clay Center was second with 120.5 and Abilene came in third with 112.5. Of the 55 schools competing, Tonganoxie came in 39th with seven points.
Senior Cameron Jesseph, Chanute, won the 140-pound state title. Darnell Bortz, a Pratt senior, was the 189-pound champ.