City will mull over budget cuts Monday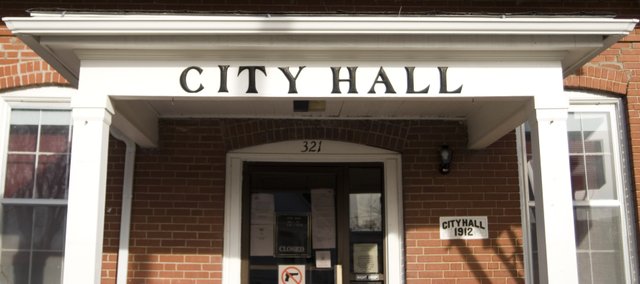 The federal government won't be stimulating Tonganoxie's economy and now city officials will have to take a closer look at its pocket book.
On Monday, the Tonganoxie City Council will meet in a special meeting to discuss what street projects will be able to be funded in 2009 now that the city will not be getting any money from the American Recovery and Reinvestment Act.
"Now that we are on our own, and also in light of the national economic condition, I think it would be in our best interest to conduct a special meeting to focus on these projects so the council can establish its priorities, and give us the go ahead on what projects we wish to proceed," Mike Yanez, city administrator, said.
Although the money for these projects was already approved and allocated in August of 2008 for the 2009 budget, city staff is forecasting a possible loss in revenue and they want to be prepared for 2010.
Kathy Bard, assistant city administrator, told the council of some of the problems the city is facing and may possibly face. She said the city's valuation has slowed down to about 1 percent, the delinquency rate of property taxes has increased while the amount of sales tax revenue has decreased.
"I suspect when the new grocery store opens in Basehor there will be an immediate pull as people want to go check it out," she said.
The state also has cut the amount of money for special highway funds by 6 percent and it will not give the city any local alcohol tax money.
Bard said her biggest concern was possibly depleting the general fund for other things and then having to increase property taxes in the future.
"We've modeled our debt and layered it in such a fashion that it will not go over 10 mills," Bard said. "That's assuming nothing else happens — that there are no changes to the general fund. If we start losing money from the general fund we'll have to raise taxes to offset that. I'm just a little leery now."
During the meeting the council will get fiscal impact numbers and updated costs on all of the projects that were budgeted for 2009.
The projects in question are: Phase 1 of East Street, Pleasant Street bridge replacement, U.S. Highway 24-40 and Main Street improvements, Phase 3 of Fourth Street, Second Street to Evans Road improvements, expansion of the Tonganoxie Fire Station, replacement of the gazebo next to the Tonganoxie Water Park, the interceptor sewer for Eagle Valley and the completion of the new waterline to the Kansas City, Kan., Board of Public Utilities.
The meeting will be at 6:30 p.m., March 9 inside the council chambers.
Despite the possibility of having to cut some projects from the city budget, the council voted, 3-1, for a $7,000 fireworks show during Tonganoxie Days.
In the 2009 budget, the city had added $10,000 for funds to continue the fireworks show tradition started last year during Tonganoxie Days. The budgeted money also included funds for a street dance.
Yanez said the pyrotechnician who ran last year's show recently told him the wholesale price of the fireworks would be increasing by 30 to 40 percent. Yanez told the council they needed to decide quickly to get about the same bang for their buck.
The city paid around $6,000 for last year's show.
Yanez said he hoped different organizations and businesses would have contributed to the fireworks fund, but as of yet no support had materialized. He said city staff would look into finding different ways to raise the funds for the firework show.
Initially, councilmembers Jim Truesdell and Tom Putthoff were against spending money for the show.
"I'm very disappointed in our chamber of commerce for not trying to get donations from businesses," Putthoff said. "We stick out our neck for the downtown business, but there doesn't seem to be any cooperation from this. With the economic impact that is going on in this country I don't see getting the fireworks display this year."
Truesdell echoed his sentiments.
Ward said that Putthoff and Truesdell made good points, but he disagreed and said sometimes in tough economic times it's nice for people just to go out and have fun.
"I think that the celebration is an important part of Tonganoxie," Ward said. "What we added last year received a lot of positive feedback. In order to bring folks back year after year you have to maintain consistency. If we get into a pattern that one year we have something and the next year we don't we won't get as much interaction."
Truesdell changed his mind and voted in favor of spending no more than $7,000 for this year's show.
For more from the meeting, log on at www.tonganoxiemirror.com.