School staffs unite for wellness program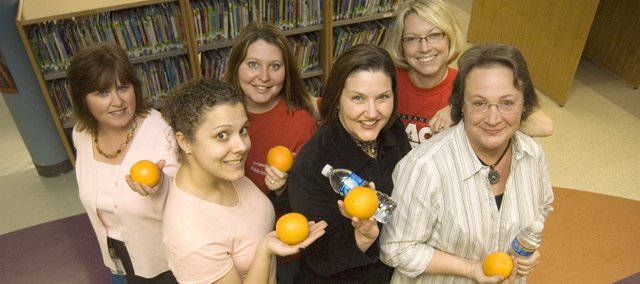 Tonganoxie Middle School teachers have a cheering section at lunchtime most school days at TMS.
When students see staff members walking, they'll root for them.
Or, as technology teacher Shelly Hunter pointed out, students will let her know whether she's walked as far as the previous day.
The exercise routine is part of a wellness program Hunter and other TMS staffers established in the fall. While at a conference earlier in the fall that focused on achieving balance in the classroom and personal life, teachers were attending a workshop about fitness.
However, the topic was about how to get the most out of high school athletes. TMS teachers instead were looking for information about wellness programs they could incorporate.
Luckily, a group of Topeka teachers who have been in a program there offered the Tonganoxie teachers insight into their program.
In late fall, TMS started its first wellness program for staff members.
In total, 35 people have lost 448 pounds in 10 weeks.
"We started it Dec. 1, which was not appealing to a lot of people because you had to behave in December," Hunter, who is a committee member for the group, said with a laugh.
Other committee members are Mary Bartels, LeAnn Bond and Heather DeMaranville.
The program is a contest among the staff. Hunter said membership requires a $20 "registration fee" and members form teams for the friendly competition.
The first program lasted just a few weeks, but the second program, tabbed Looking Fine for Spring Break '09, is a nine-week program and will conclude with the winning team being announced March 17.
Points are given for healthy eating decisions, taking multivitamins, exercise and making positive comments about others, as well as laughing out loud. Points are taken away for eating junk food, having drinks containing sugars and consuming more than two "grown-up drinks" a week. Eating after 8 p.m. also counts against participants.
TMS principal Jill Dickerson said she's made personal decisions with her team in mind.
"You see a cupcake at a meeting and you think, 'Oh, I can't let my team down,'" Dickerson said. "I'll have a water, thank you."
Elementary program
The program has caught on at Tonganoxie Elementary School as well. Hunter introduced the information to TES staff and it quickly took off. Teacher Kyla Sandhoefner and paraprofessional Mary Welsh volunteered to head the TES version of the program.
There are 37 staff members doing the program, Welsh said, of about 80 staff members in the building. After starting just a few weeks ago, the group has lost 150 pounds, which she said was "an excellent start."
"We've got people walking after school," Welsh said. "We've got people following the program. I think it's been a positive thing."
Hunter pointed out that the weight loss and exercise have been great components, but said the biggest benefit has been what she calls "atmospheric wellness" at the middle school.
Through the program, she's gotten to know staff members better.
"I've known some of these teachers for years and didn't really know them," Hunter said.
And that bonding has shown through their wellness teams, Hunter said. Team members encourage each other and in times when will power is needed most, have assisted their colleagues. For example, for Valentine's Day, some staff members gave each other sugar-free candies so they could indulge a bit without really indulging.
Instead of chocolate, Hunter received oranges for Valentine's Day. As part of her healthy eating, Hunter eats many oranges and downs plenty of water. It's recommended that participants drink at least 32 ounces of water daily and they receive points for doing so. For the next wellness period, Hunter said the minimum would be increased to 42 ounces.
In addition to the program, the wellness groups are planning a 5K run to benefit Jake Ostermeyer, a Tonganoxie High School student who will be undergoing a kidney transplant.
Additionally, some group members plan to participate in the Walk Kansas event, a fitness program coordinated through Kansas State University Research and Extension.
A promise to her mother
In April 2008, Hunter's mother was diagnosed with brain cancer. Two weeks after the biopsy, her mother died.
Before her mother's death, Hunter made a pact with her that she would take better care of herself.
The next month, just after Mother's Day, Hunter started her program. She has lost about 75 pounds and has a goal of losing roughly 100 pounds in a year.
"I'm not tired, I'm energetic," Hunter said. "Food is fuel for me now. I eat all the time, but I eat the right things."
Hunter follows an eating plan through Metabolic Research Center, which she recommends to anyone wanting a healthier lifestyle.
Tracking how much weight she's lost has been an exciting journey for Hunter. The same has been true for others involved in the wellness program.
Participants weigh in each Monday, which comes with some strategy. Hunter said she weighs in early in the morning, as a person typically weighs less in the morning. Dickerson said she has certain lightweight clothing she wears for weigh-ins.
Each Tuesday, scoring for the week is posted in the teacher's lounge, which participants are eager to check out, Hunter said, adding that the program can get competitive.
"There are no rules against sabotage, but I don't think anyone of us will go down that road, because it will come back sevenfold," she said with a laugh.
The bottom line, though, is that the program has helped many staff members become healthier.
"The morale of the building is unbelievable," Hunter said. "And if I can help out, I'd love to do that."