Weather causes damage to 80-year-old barn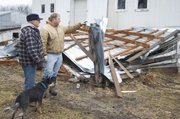 Sometimes people just have bad luck.
If it wasn't enough that Ben Myers' dog of 13 years — a red heeler named Reba — died Feb. 8, three days later a section of barn on Myers' property was completely destroyed after a gust of wind ripped it from the ground and flung it across his property.
"I sure could have done without these last few days," Myers said Feb. 11 as he observed the sheet metal and wood scattered on his property.
Myers said sometime after midnight Feb. 11, his wife Deloris heard a large noise from outside. When they checked it out they saw the east part of the barn now located on the west side of the 80-year-old barn.
"It's made it through a lot of storms with a lot of bad winds and we've never had any problems," Myers said.
That morning Myers' grandson Jonathan Myers came by to help make sure everything was OK and that Myers' livestock was safe.
While Myers isn't exactly sure, he believes the damage was caused by a microburst.
Matt Elwell, meteorologist with 6 News Lawrence, said it could have been a microburst, but he didn't have enough data to verify that claim.
Instead, he suspects that the damage was caused by sustained winds that reached up to 30 mph that night, with wind gusts reaching greater speeds.
"The winds in hurricanes might not be higher than 84 (mph), but they are sustained for such a lengthy period of time and that is what causes the damage."
He believes that a sustained wind, combined with a softer ground from rain may have led to the section of barn being blown away.
Although Myers had to live through that string of bad luck, he was glad that nobody got hurt and that nobody else had property that was damaged.