Bobcats bump Chieftains for finals spot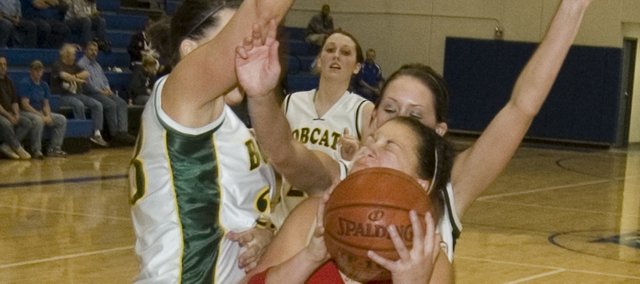 Perry — Basehor-Linwood High senior Bren Koontz exploded for 16 third-quarter points to propel the Bobcats to a 58-33 win over the Tonganoxie girls basketball team in a Class 4A sub-state semifinal Friday night.
The Chieftains (15-7) were down just six at the half but Koontz caught fire in the third, scoring eight consecutive points for Basehor-Linwood (17-5) during a 10-2 run that opened the third quarter.
Tonganoxie's only points in that stretch came on a jumper from sophomore Danielle Miller, who later hit two free throws with 3:51 remaining to cut the BLHS lead to 12.
But the Bobcats fired back with a 7-0 answer to put the game out of reach for good.
Points were hard to come by throughout the second half for THS. The Chieftains scored six points in each of the final two frames as the Bobcat defense took away driving angles and passing lanes. BLHS outscored THS 31-12 in that span.
Koontz led all scorers with 27 points. The only other player to score in double figures was Tonganoxie senior Roni Grizzle, who led the Chieftains with five second-half points and finished with 13.
Basehor-Linwood will play Holton (22-0) on Saturday night at 6 p.m. at Perry for the chance to go to state.
Score by quarters
Tonganoxie 8 13 6 6 — 33
Basehor-Linwood 15 12 20 11 — 58
Tonganoxie scoring:
Roni Grizzle 13, Chrissie Jeannin 4, Andie Jeannin 3, Abby Eisman 6, Lauren Hall, 2, Danielle Miller 4, Haley Smith 1.
Basehor-Linwood scoring:
Megan Bergstrom 6, Bren Koontz 27, Courtney Hooks 4, Amber Jeannin 4, Kara Douglas 3, Macyn Sanders 4, Cassy Bever 7, Courtney Poe 2, Taylor Johnson 1.