State hopes fade away
Chieftains battle, but fall short in sub-state final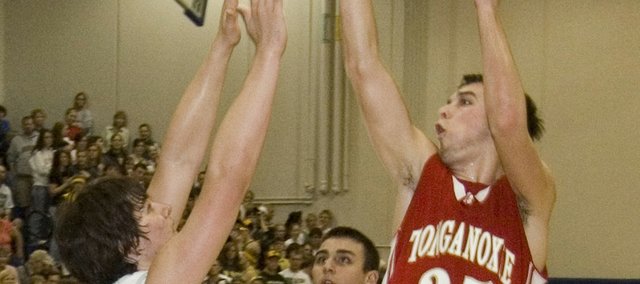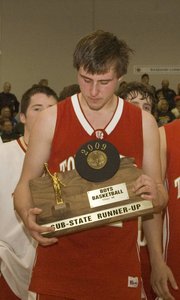 Photo Gallery
Tonganoxie boys fall in sub-state final
Playing for their first state tournament berth since 1984, the Tonganoxie High boys basketball team fell, 68-50, to rival Basehor-Linwood on Saturday at Perry.
Perry — No picnic. No pushovers. No walk in the park.
With a state tournament berth on the line, the Chieftains weren't about to get punked.
From the opening tip, it was clear that the Tonganoxie High boys basketball team wouldn't be a doormat for favored Basehor-Linwood in a Class 4A sub-state championship game Saturday night. But the Bobcats proved to be the better, more seasoned team and won a trip to the state tournament by knocking off Tonganoxie, 68-50.
With confident gaits and hops in their collective steps, the Chieftains pounced on the Bobcats early, taking a 6-0 lead. Fired up THS senior Jamie Everett scored on a drive in the opening minute. A spectacular spinning layup from junior Keaton Schaffer followed, and Schaffer scored another bucket on an offensive rebound.
It looked as though Tonganoxie (14-9) might just be able to pull off the upset and earn a spot at state for the first time in 25 years.
However, Basehor-Linwood (19-4) had plenty of sub-state experience in its repertoire and it showed as senior guard Chandler Schaake hit consecutive three-pointers for the Bobcats and tied the game with 3:47 to play in the first quarter, making sure the Chieftains' spurt didn't turn into an ugly hole for BLHS.
First-year Tonganoxie coach Shawn Phillips said his squad's energetic start was exactly what he wanted to see.
"We've always tried to stress that we're never going to be intimidated by anyone. Basehor's a very good basketball team but we weren't just going to give it to them, they were going to have to earn it," Phillips said. "We were trying to rise to the challenge. Unfortunately, we just didn't have enough to get it done."
After a THS three from sophomore point guard Jeremy Carlisle with 3:20 remaining in the first quarter gave the Chieftains another lead, the Bobcats responded with a Colin Murphy basket, and, later, a steal and a layup from Mark Vaca with 2:40 to go in the period gave Basehor-Linwood the lead for good.
Tonganoxie senior center Austin Smith kept his team competitive in the second quarter, scoring eight of his team-high 16 points. Even though no BLHS player had more than one basket that period, seven Bobcats scored and the Chieftains trailed, 31-22, at intermission.
Smith, who also led THS with 10 rebounds, said the team felt good about its first half.
"We had that mindset that we were gonna play for the championship and make it a game to remember but we just kind of lost it there about halfway through," he said.
Tonganoxie cut its deficit to seven at the 7:00 mark in the third quarter when Carlisle hit senior guard Jace Waters for a transition basket. But following a three from BLHS senior Tanner Bowers and a bucket inside from Smith, the Bobcats created separation with a 10-4 run.
Schaffer, who scored 14 points, grabbed eight boards and ended that run with a drive, said his team never quit.
"I don't think we ever lost hope that we would have a chance," he said. "We knew we had a chance throughout the whole game."
That mental stance revealed itself in the fourth quarter. The Chieftains trailed by 13 entering the final eight minutes, but showed resolve, cutting the hole under double digits halfway through the period.
Schaffer started the fourth by hitting a runner with 7:48 to go.
The next few minutes featured a back-and-forth contest of three-point marksmanship between Bowers and Carlisle. The Bobcat drained a three at 7:22 and his Tonganoxie counterpart responded at the 7:00 mark. Then Bowers answered with a three and Carlisle matched him again. Bowers cashed his fourth and final trey of the game with 5:52 to go, putting the Bobcats up 14.
Tonganoxie then made a push to keep things interesting. Smith scored on a drop-step in the paint with 5:40 to play. A Schaffer drive just inside five minutes cut the hole to 10. Junior Brandon Yoder later sank a free throw with 4:01 remaining but 56-47 was as close as the Chieftains got.
"We had a chance," Smith said, "but we couldn't cut it."
The Chieftains trapped aggressively the last few minutes, hoping to force turnovers, but, as Phillips pointed out, pressure won't beat a good team and the THS defense couldn't cause havoc.
The Bobcats hit 10 of 13 free throws down the stretch and went 18-for-25 overall. Tonganoxie was 9-for-22 from the charity stripe.
"Basehor's a great team," Schaffer said, "and I hope all the best for them at state."