Tonganoxie season ends in semifinal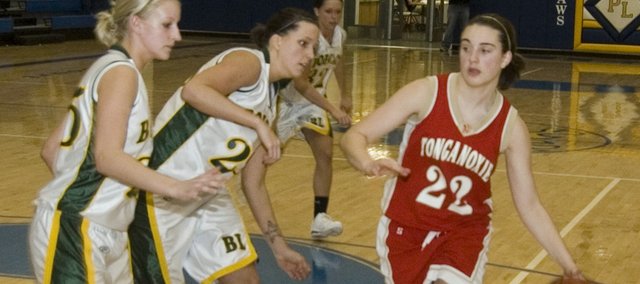 Perry — Points were hard to come by, making a win even more difficult to find for the Tonganoxie High girls basketball team in a Class 4A sub-state semifinal showdown with rival Basehor-Linwood on Friday night.
The Chieftains scored more than eight points in just one quarter — the second — and fell to the Bobcats, 58-33, ending their season.
Although THS (15-7) jumped out to an early 6-0 lead and the game was tied at eight with 1:47 left in the first quarter, BLHS went on a 7-0 run to end the period and Tonganoxie never led again.
Coach Randy Kraft said the good start continued throughout the second quarter, when the Chieftains outscored the Bobcats 13-12, and THS trailed by six at the break.
"I thought we played the whole first half pretty well," Kraft said. "We missed a lot of shots — a lot of easy shots — and that got even worse in the second half. I think that's what finally buried us."
True, it wasn't until the third quarter when Basehor-Linwood (17-6 after falling to Holton in the sub-state final Saturday) created separation. BLHS senior Bren Koontz caught fire in the third, scoring 16 of her game-high 27 in that frame. Koontz scored eight consecutive points for the Bobcats during a 10-2 run that opened the third quarter.
Tonganoxie's only points in that stretch came on a jumper from sophomore Danielle Miller, who later hit two free throws with 3:51 remaining to cut the BLHS lead to 12. But the Bobcats fired back with a 7-0 answer to put the game out of reach for good.
With Koontz seemingly scoring at will and the deficit growing ever larger, THS senior guard Chrissie Jeannin said the Chieftains were deflated.
"You hit a basket and she just comes down and scores. If it's the same person, it kind of keeps putting you down a little bit," she said.
BLHS scored 20 to Tonganoxie's six in the third.
"They hit shots and it kind of buried us there for a little bit," Kraft said, noting THS missed multiple point-blank shots in that quarter. "That's what really kind of started the downhill spiral for us."
The Bobcat defense also spiked in the second half, when BLHS played with more ferocity. Specifically, the Bobcats took away Jeannin as an offensive option. No matter how many screens THS set for the guard, or how many times she drove to the paint, Basehor-Linwood always had a solution. All four of Jeannin's points came in the first half — she hit two free throws 2:14 into the contest and scored on an up-and-under move with 1:03 remaining in the second quarter.
"It seemed like every time I drove, there was somebody trying to get the ball from me," said Jeannin, who averaged close to 15 points a game for the season. "It was just hard to get it up or do anything."
Other than Koontz, Tonganoxie senior forward Roni Grizzle was the only player to score in double figures. Her 13 points led THS on a night when the team's rival outplayed them.
"As the game went on, everybody just kind of stopped going hard at everything," Grizzle said, "and then that gave them a chance to get in the passing lanes and get every loose ball, something we weren't doing."
Chieftain pride
Despite the season's disappointing ending, Kraft said the 2008-09 campaign was a success.
"I'm really proud of the kids, considering of the seven or so players that we had playing varsity, five of them hadn't played hardly any varsity minutes last year," Kraft said. "So that's quite a credit to them; they had to grow up quick."
The coach was especially impressed with their wins in close games — the Chieftains were 7-0 in games decided by seven points or less.
"That's hard to do, especially when you're young and inexperienced like that," Kraft said.
Jeannin found satisfaction in her senior year.
"I'm really proud of everybody," she said. "We stepped up and started playing with a lot of emotion and playing our roles and doing what we needed to do, just being more aggressive."
Grizzle agreed, deeming the season pretty successful.
"I would think so, especially after last year — we lost five seniors," she said. "No one expected anything out of us, so I think we did pretty good."