5 questions: Green Matter
City continues with drop-off recycling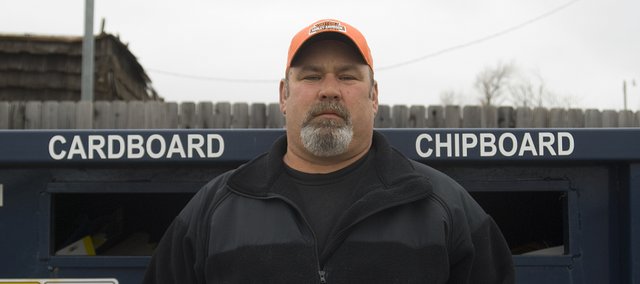 Q: Are you going to continue the recycling program in Tonganoxie?
A: Yes. We plan to continue the drop-off recycling program in Tonganoxie. It is an opportunity for us to give back to our customers and a community we serve at no cost to the residents of Tonganoxie.
Q: Can you explain what is happening with the market for recyclables?
A: The economy itself affects what's happening in the recycling industry. Most recycle goods are sold to other countries, but currently this export market has come to a halt. Not only are many recycled goods not turning a profit, some are becoming a financial burden for recycle centers. As the economy rebounds and the manufacturing of products increases, so will the recycling markets.
Q: What kind of recycling is available at the drop-off center near Triple Creek Realty?
A: At our recycling center we currently accept: cardboard, chipboard and Nos. 1-7 plastics. We cannot accept plastic bags or Styrofoam even with a recycling symbol, the mills will not currently accept them. We also have a container for aluminum cans, this container benefits and is maintained by the Boy Scouts in Tonganoxie.
Q: What can people do with recyclables that you do not accept?
A: There are other places to recycle in Tonganoxie for paper products. I would suggest taking them to the elementary school. Some churches also participate. These organizations often get a kickback for these products and use it to help fund their programs. People may also want to make themselves aware of other programs that are not in town, but are still great ways to recycle other items such as: glass, metal, tin cans, paint and oil. The Leavenworth County Transfer Station is subsidized by Leavenworth County taxpayers and its site is open to the public six days per week. Wal-Mart or 12th and Haskell Recycle Center are other options in Lawrence.
Q: Why do you think it is important for individuals or families to recycle?
A: Recycling is one of the best ways for people to have a positive impact on the world in which we live. Some of the benefits of recycling include: saving energy, saving land space, saving money, creating new jobs, reducing air and water pollution and preserving habitat for wildlife.