Area races to be decided with April 7 election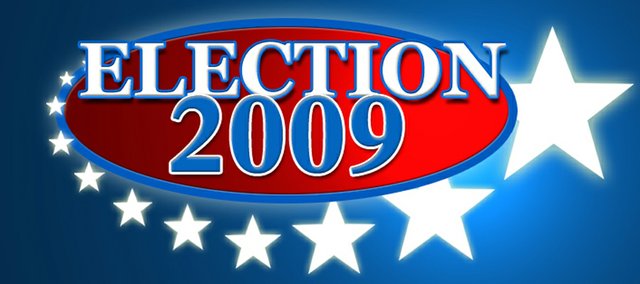 In less than a month, races for area city council and school boards will be determined.
The general election will be held Tuesday, April 7, and several candidates are vying for seats.
In the City of Tonganoxie, both Jason Ward and Jim Truesdell are running for re-election.
Joining them this election year are Burdel Welsh, Sieglinde Marx and Roger Shilling.
Like the city council race, two Tonganoxie School Board members are seeking to remain with the board past their current terms. Incumbent Kay Smith and Doug Tate, who is running for his first full term, are those two school board candidates. Tate was appointed to his position in 2007 after Bob DeHoff resigned.
Joining Smith in the race for Position 5 is Randy Wager. Dan Hopkins is running unopposed for Position 4, which will be vacated by current board member Darlyn Hansen, who is not seeking re-election.
In the Position 6 race, Tate is joined by Kris Grinter and Tim O'Hagan.
Voters will have a chance to meet Tonganoxie candidates at 7 p.m. Thursday, March 26 at VFW Post No. 9271, 901 E. First St. The event is being sponsored by the Tonganoxie VFW and First State Bank and Trust.
For Basehor City Council, there are two candidates for mayor — councilmember Terry Hill and council president Iris Dysart. Current Mayor Chris Garcia is not seeking re-election.
In another Basehor City Council race, Dennis Mertz and David K. Breuer are running for the seat of councilmember Keith Seifert, who is not running for re-election.
The Basehor-Linwood School Board has three open positions, but only one is contested.
Richard Zamora, Leigh Ferris and LeRoy Scharnhorst are running for Position 5. Pat Jeannin currently holds that seat, but is not seeking re-election. Running unopposed for Position 6 is incumbent Gary Johnson and running unopposed for Position 4 is Wynne Coleman.
For more election coverage, including reports from races in McLouth, see next week's edition of The Mirror.