Building codes could be implemented countywide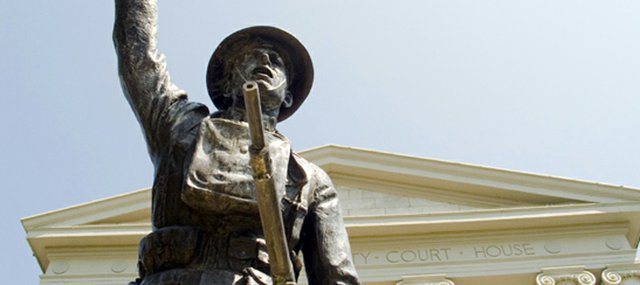 The county could be seeing an official standard of building codes in the near future.
On Monday, the Board of County Commissioners listened to a report from Jeff Joseph, the planning and zoning director, about creating and adopting a set of building codes for the county.
"With the future development of County Road 1, I think we should look into some minimum standards of construction for commercial and residential buildings," Joseph said.
With Joseph to discuss the codes was Jerry Mallory, building official for unincorporated areas in Johnson County.
Mallory said it was important for rural areas that are starting to develop to establish a set of building codes, especially as the types of structures being constructed are more sophisticated. He said not everyone in the county is going to like the new codes, especially contractors who have gotten used to the way things have been done.
"You need to sell it as a joint venture between the county, the builders and the homeowner," Mallory said.
Danny Dodge, code enforcement officer for Tonganoxie, was also present during the meeting. He said having codes in the county could help tremendously with making sure structures are built correctly.
"I field calls from people outside of the city limits all of the time," he told the commissioners. "Once they move into their house they ask, 'Why is my house falling apart? Why wasn't it inspected?' And I explain to them that they didn't have any codes."
Another problem comes from enforcement of the codes. The county budgeted $68,000 in 2008 for code enforcement and carried it out into the 2009 budget.
Mallory said in the past, the Johnson County department, which ran with less than 10 people, was self-sustaining and lived off of permit, inspection and plan review fees. But with construction slowing down it was going to have to find another way to get funding.
Graeber said he was for adopting a set of codes, but he didn't want it to have a huge financial impact on taxpayers.
"I don t want to put anything out there that is going to cost two mill or three mills," he said.
In the end, the commissioners unanimously passed a motion to direct the planning and zoning department to come back within 30 days with recommendations and a barebones plan for what a code program would look like. This would include the number of people that will be required and an implementation time frame.
Time Sheets
Leavenworth County is switching to a new electronic time sheet system.
On Monday, the Board of County Commissioners unanimously voted to have Heather Morgan, county administrator, negotiate a contract with Pro Pay.
The board made the decision based on the recommendation of a technology committee that was formed to find a solution to the county's paper time sheets.
Committee members said the electronic time sheets and payroll would save department heads and the county's human resources department substantial money in time and in paper cost.
The software will allow county employees to access their payroll documentation, past pay stubs, insurance information and direct deposit information.
The board also moved that all pay will be done through direct deposit and there will be no more paper pay stubs. Special exemptions will be granted to certain employees and the county will assist any employee who would like help opening a bank account.
The program will cost approximately $20,000 a year for the county's 420 employees.
Morgan said the new program will save the county more than the cost of the program.
For more on the BOCC, visit www.tonganoxiemirror.com.