CR1

development coming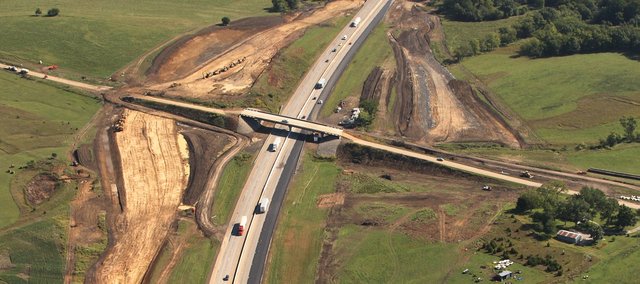 Leavenworth County and Tonganoxie officials are eagerly awaiting what type of development they can secure along County Road 1 once the new Kansas Turnpike Authority interchange opens.
But before any development starts moving dirt around, both parties want to make sure everything will be properly planned.
John Flower, county commissioner, said the right kind of growth and development in the area will have to be smart growth.
"In a holistic approach to County Road 1, the intent is to develop county road in harmony with its current uses," he said. "We want to preserve green space, have smart growth so you make sure you get the right mix of agriculture, commercial and residential."
To make sure they plan things correctly, the Leavenworth County/City of Tonganoxie Stakeholder Group, in charge of developing an interlocal agreement between the county and the city for County Road 1, put out a request for qualifications on Friday to invite development firms to help plan the future of the road.
Jeff Joseph, the county's planning and zoning director, said the request was sent out to more than 45 developers nationwide.
The group, which is comprised of planning and zoning officials from the county and the city, as well as other officials from the two entities, decided that planned development of the road would be crucial.
Flower said the group did have planning professionals to help make some decisions, but some of the questions they needed to ask were beyond the scope of the department.
Tonganoxie City Administrator Mike Yanez agreed and said the group was looking for development firms such as Zimmer Real Estate Services to develop the plan.
"We felt we needed some professional advice, particularly regarding marketing of what's hot and what's not and to give us some advice on the potential of the County Road 1 corridor and the KTA interchange," Yanez said. "They might come in and say bioscience is hot where housing is not. We need that marketplace advice."
The stakeholder group put in the request that it was going to use the plan as a road map to maximize the tax base and fee revenues while maximizing development. Joseph said the group also wanted strategies on how to attract new local, national and international businesses and create new employment opportunities in the county.
While Flower likes the possibilities of development on CR 1, he stressed that any future development plan would be just that, a plan that can be used if the current landowners choose to follow it.
"No one out there has to do a thing," he said. "If they are farming their land, if they are raising cattle on their land, if they are just sitting there doing nothing on their land, they can do the same thing with or without this plan."