McLouth hires Topekan as police chief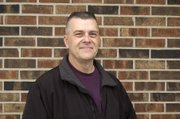 McLouth has selected a police chief who is no stranger to Jefferson County.
After nearly a year with an interim chief, the McLouth City Council unanimously approved hiring Marcus Koch, who has served on police departments in the Jefferson County communities of Perry, Winchester and Nortonville. He also spent a summer with the Perry State Park in it parks and wildlife division.
"As I told the city, I'm really looking forward to the opportunity to serve the folks of McLouth," Koch said. "My past experiences in law enforcement have led me to seek a position of that type. All of my experiences as a police officer have been in small-town policing."
Koch will leave his position as an officer in Topeka Public Schools to become McLouth's police chief.
McLouth Mayor Mike Graveman said he was pleased with the hire.
"There are some long-term goals there that I'm happy we can now focus on," Graveman said. "Without a full-time chief, it's difficult to have them."
Graveman said he would like to hire a second full-time officer as well.
"Historically we've had one full-time chief with a very large number of part-time officers. It's been difficult to get the part-time officers in."
The mayor noted the city has had as many as 20 part-time officers serving at one time. Currently, there are five part-time officers. Graveman said part-time officers still would be used if a full-time officer position were created to cover for vacation and other situations.
Graveman would like to review the budget and explore hiring another officer "without a real change in the budget," he said.
Koch has been in law enforcement since 1998. In addition to working in various Jefferson County agencies and for Topeka Public Schools, he also worked as a patrol supervisor for the Potawatomi Tribal Police Department in Jackson County.
The 48-year-old Koch was born in Milwaukee. His family moved to Chicago when he was between the third and fourth grades. He later attended Kansas University, majoring in graphic design. He moved back to Chicago, but on a return trip to Lawrence, he met his future wife. After getting married, they lived in Chicago, but later moved to Topeka, which is where his wife originally is from.
Koch said he's always had a high regard for law enforcement, noting "it's a very, very important function in our society."
Koch's brother was killed by a drunk driver in 1991, an event that steered him in some capacity to law enforcement.
"That didn't automatically make me think I wanted to be a police officer, but I think that had some effect on me and in dealing with that situation," he said. "During that period of time and the reflection on that life experience, I felt like I wanted to give back to folks and if I can help prevent somebody experiencing a tragedy of that nature or helping someone in that type of experience, I have first-hand knowledge of what it's like."
For Koch, his philosophy is to be proactive rather than reactive. He said he wants to build a strong connection with the community.
"Visibility is a deterrent to criminal activity," he said. "Unfortunately, in our society, even small towns have problems."
Koch will begin his new position with the McLouth Police Department on Wednesday, March 18. His annual salary will be $42,000.
Koch replaces interim chief Danny Ruff, who also is a Tonganoxie police officer and has served on an interim basis since last March.
Ruff replaced Tom Burns, who Graveman had put on suspension last March, but did not specify why, citing he couldn't speak about personnel matters.
Burns then retired in May.