Pageturners:
TMS

readers go places
Students reach reading destinations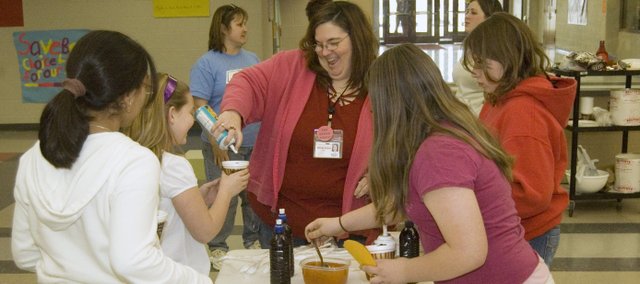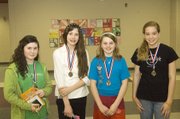 Some Tonganoxie Middle School students traveled to Hawaii and back without ever leaving Kansas.
TMS library director Barb Bahm led a seven-week reading program open to all middle school students. For the program, which was in line with the National Education Association-sponsored Read Across America, each student picked a "destination."
For each mile apart Tonganoxie and their destinations were, students were asked to read a page.
Sara Krapp, an eighth-grader, selected a goal of Honolulu, which is 3,867 miles from Tonganoxie.
Krapp could have made three round trips and had some "miles" left over. She easily surpassed her goal, reading 14,438 pages, which was the top number for the program.
So why did she pick Honolulu?
"It was the farthest," Krapp explained, noting her favorite books are in the historical fiction category.
She said she liked participating in the reading project.
"It was fun," Krapp said. "I just like reading books."
The program started with 157 students and staff and concluded with 80.
To remain in the program, students were required to check in each week with Bahm with their progress.
For the students who accomplished that, an ice cream party was held Thursday. Belfonte donated the ice cream for the event, while the Tonganoxie Sonic Drive-In donated spoons, napkins, cups and syrups.
Students also received prizes for remaining in the program all seven weeks and for reaching their reading goals. The top reader in each class received special recognition as well.
In fifth grade, Monica Maurer was the top reader with 6,639 pages. The top sixth-grade reader was Megan Briggs at 3,652. Celeste Bartels was the top seventh-grader, reading 3,533 pages.
Top staff member was Miranda O'Hagan, who read 4,031 pages.
In total, the group read a whopping 142,703 pages.
Bahm said the local Read Across America program was successful.
"I think it was," Bahm said. "Some made their goal in the first week."