Erickson suggests budget-cutting proposals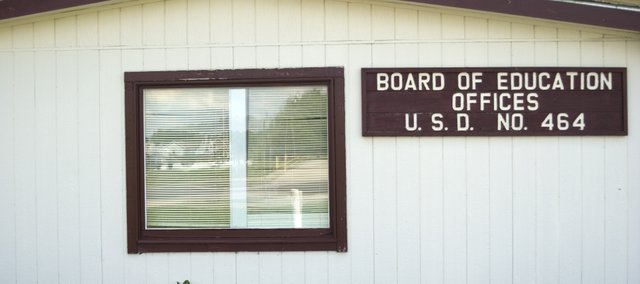 Tonganoxie Superintendent Richard Erickson outlined four budget proposals at Monday's school board meeting with regards to state budget problems and how the Legislature will deal with those issues.
The suggested proposals were offered to his predecessor, assistant superintendent Kyle Hayden, who will take over as superintendent July 1 and will prepare the budget for the 2009-10 school year. "I have developed some proposed budget scenarios that I want to offer to Mr. Hayden and the board in regard to how the budget crisis might be addressed," he said, referring to assistant superintendent Kyle Hayden, who will take over as superintendent July 1, and the school board.
Erickson's first proposal was termed the stimulus package proposal. This plan would provide $4,400 per student in state aid, which is the amount available to the school district after Gov. Sebelius' $33 per student reduction. The plan, Erickson contends, would maintain most positions in the district and most curricular and extra-curricular programs for students. The plan would provide an additional $200,000 for technology improvements.
The second plan, a 6.7 percent budget reduction, would preserve the present budget authority and preserve curricular and extra-curricular programs. Some classified employee position hours would be reduced, but most employee positions would be protected and $200,000 in technology improvements would be provided.
With the third plan, a 7.5 percent budget reduction would be implemented. Budget authority and curricular and extra-curricular programs would be preserved, although the number of coaches in extra-curricular activities could be reduced. Again, classified hours would be reduced and most employee positions would be protected. The plan would provide for $180,000 in technology improvements as well.
The final proposal, an 8.2 percent budget reduction is similar to the 7.5 percent plan, but also would eliminate chairperson positions and stipends. The proposed plan also would require reduction of three employee positions through attrition (such as retirements or staff leaving) and a subsequent reorganization of employee positions in the district. The plan would provide for $180,000 in technology improvements.
"We're trying to be prepared for the very-worst-case scenario and I think we are, but certainly hoping for the best," Erickson said.
The plans would require an increase in the capital outlay mill levy from 4 mills to 8 mills, an increase in the local option budget to 30 percent of the general fund or the full maximum legal authority and an increase in student fees to offset the reduction in state funding.
The district also will be operating with a budget that won't have roughly $630,000 in state aid for the opening of a new building. With the construction of Tonganoxie Middle School and improvements to the high school's east campus, the district received about $630,000 annually from the state. But that aid was for two years, and this school year is the second and final. That funding was used within the district's general fund budget for district salaries and other operational expenses.
Erickson said he thought the budget scenarios he offered accomplished these goals: • Continue to offer ecucational programs that challenge all students academically. • Continue to improve the technology program, both software and hardware in USD 464. • Maintain present employee positions that support the mission of the school, which is "To prepare each student to be a fully productive and caring participant in our changing world."
Technology purchasing plan approved
The school board approved a technology purchasing plan for software, computers and other needs for nearly $390,000.
By a 6-0 vote, with Darlyn Hansen absent, the board allowed technology director David Milhon to proceed with letting bids and secure financing. Milhon presented a list of software, computers and other technology needs for a total of $388,000. That would be for $250,000 for this year, as computers would be financed at $46,000 this year, as well as the next three years.
Calendar set for 2009-10 school year
Tonganoxie Public Schools will begin school Aug. 18 with a half-day of classes and will end the school year May 25, 2010. The board approved the calendar at Monday's meeting.
Winter break will begin Dec. 21. Classes will resume Jan. 5.
Assistant superintendent Kyle Hayden also discussed the possibility of enrollment for all schools being held at the Chieftain Room in Tonganoxie High School's east campus building. That would allow parents to pay for all enrollment at one location and write one check. Hayden also said that parents could still enroll at their children's specific school buildings if they desired.
"I like the idea of writing one check," said board member Diane Truesdell.
Fellow member Leana Leslie said she liked the idea of not going to various buildings for enrollment.
Resignations, retirements accepted
Midway through the meeting, the school board entered into executive session for 30 minutes to discuss personnel matters. When the board returned, it resumed with regular business. Later in the meeting, the board accepted the resignations of: Sandy Saultz, head cheerleading coach; Scott Leffler, TMS physical education teacher and coach; and Stephanie Maurer, TES paraprofessional.
The board also accepted the retirement of Karen Sivits, TMS sixth-grade teacher.