Tonganoxie soccer adjusting to losses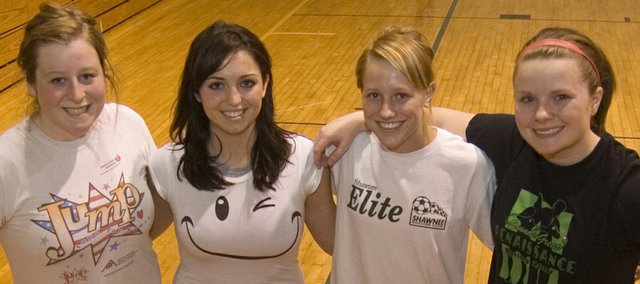 Tonganoxie High girls soccer coach Ken Lott knew this year wouldn't be easy — the Chieftains lost six of their top players to graduation last year — but the team was dealt another blow before preseason practice even started.
Jordan Gagne, one of the team's two seniors with significant varsity experience, was sidelined for the year with a torn right meniscus, making a senior class that featured her, Addy Phelps, Colby Bennett and Mallory Wetta even smaller.
Lott now expects others to step up in Gagne's absence and as the team prepares for its home opener against Lansing on March 26 (6 p.m.), the coach has stressed that THS will have to work as a team — not 11 individuals — in order to be successful.
That approach especially will be needed, Lott said, from a scoring standpoint since last year's leading scorer, Alexa Moreno, is gone.
"It's going to have to be more of a team role as far as scoring this year instead of trying to get the ball to one or two people," the coach said.
Phelps said the Chieftains are glad to take that approach.
"We've just been working hard on a lot of moves that we can make and we have to practice really hard on shooting," she said.
Along with offensive-minded players like Ashley Kotowske, Lauren Williams, Carlea Richert and Carson Simmons, Sydney Bennett, one of the team's three captains (along with Phelps and Gagne), figures to lead Tonganoxie's offensive attack.
"They'll all be crucial in making sure we have opportunities to score," Lott said.
Bennett, he added, has been pushing herself hard and has become much better.
"She is one of those players who is always trying to make herself better so she can add something to the team that maybe wasn't there before," the coach said.
Defensively, the biggest cleats to fill this season are those of former THS goalkeeper Sarah Flaherty. Luckily, she started grooming her successor last year. Sophomore Alex Bartels will man Tonganoxie's goal in 2009. She and Flaherty worked together in their one season as teammates and the senior showed confidence in the freshman, which should help the new keeper.
"Alex Bartels has been working really, really hard in goalie," Phelps said.
So has the rest of the team. Gagne, who has been heavily involved with the team despite her injury, said the Chieftains have a fast group that shows promise.
"They're improving immensely so far from the time we started to now," Gagne said, "so I have high hopes for them."