Unseasoned wrestlers grew up fast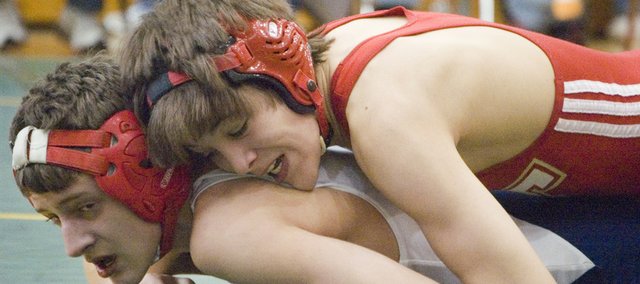 What was bad for young Tonganoxie High wrestlers on the final day of their season this year, will eventually be good for them down the road.
Although all the Chieftains' underclassmen — THS was starting five freshmen and a sophomore in its varsity lineup at a loaded Class 4A regional in late February — were eliminated at their first state-qualifying tournament, they were able to find success that will help them in the long run.
Of the team's six youngest grapplers, four won at least one match at their first regional. Adam Thomas, a 103-pound freshman, went 2-2, as did fellow frosh 119-pound Caleb Himpel and 130-pound sophomore Tyler Hand. Freshman Jonas Myers, wrestling at 285, was 1-2.
Tonganoxie coach Jeremy Goebel said that run of success will pay off in future years for the wrestlers.
"Getting thrown into a regional like that and winning matches, that's only confidence-building," Goebel said. "They realized how tough we can be if we just keep working."
Thomas said the group needs to remember their improvement when next season rolls around.
"It's really important because we had a lot of freshmen that really stepped up this year … and really turned it on at the end of the year, and that's what we're looking for," Thomas said. "Hopefully, we can pick up where we left off next season."
Himpel agreed, and said the future should hold more success because the Chieftains have been thrown into the fire early in their careers.
"It's huge for a program because our underclassmen are doing good and we've got kids who are like seventh- and eighth-graders that are going to be really good in the future," Himpel said.
Some of those young wrestlers are working with Himpel, Myers and THS upperclassmen Jeremie Maus and Jeremy Elliott with the Tonganoxie Kids Wrestling club. It provides them plenty of chances to compete and improve in the offseason.
That's one aspect of growth Goebel likes to see in Tonganoxie wrestling. The coach also was a fan of watching his young grapplers accept the challenge of competing in the varsity lineup.
"One thing that's nice about freshmen is, as the season goes, you see the progression," Goebel said, noting that most of their opponents were older and more experienced.
The THS coach said his underclassmen lived in the moment at their first regional.
"They didn't do a whole lot of thinking, they just went out and competed as hard as they could," Goebel said.
By ending the year on a positive note, their coach hopes the now slightly more seasoned wrestlers will use the event as a stepping stone.
"We went in there kind of like a tornado hoping to hit and we did," Goebel said. "We might have not qualified for state but we made big strides in terms of finishing strong."