Interchange work presses on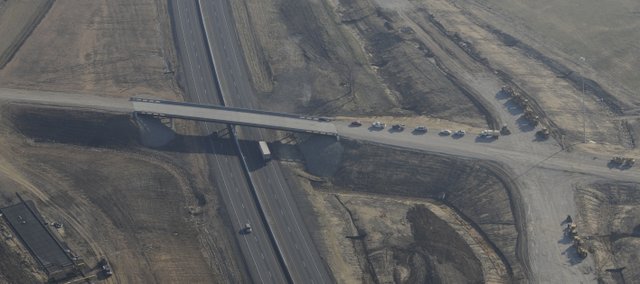 A new six-mile stretch of Leavenworth County Road 1 remains on track for opening by the end of the year.
But the path of its future traffic, use and development remains to be mapped.
The project — a partnership of the county, Kansas Turnpike Authority, City of Tonganoxie and Kansas Department of Transportation — will, for the first time, establish a turnpike interchange in Leavenworth County. It will be known as the Tonganoxie/Eudora interchange, exit 212.
The project also will improve the ride for drivers on County Road 1, by providing wider lanes, paved shoulders and a smoother profile.
The rebuilt road will go from U.S. Highway 24-40, about a half-mile south of Tonganoxie, to Kansas Highway 32 south of the turnpike.
"It's not going to be up-and-down, up-and-down, rolly," said Rex Fleming, project engineer for the turnpike authority. "It'll be flatter … and safer."
The project's effects won't end there.
With an interchange on the turnpike, drivers will have a more direct opportunity to head north to Tonganoxie. In December the city spent $1.4 million to acquire 240 acres of property at the southern edge of town for a future business park.
"We're very excited about the prospects for new annexations, more development, a good mix of development from industrial to retail to residential," said Mike Yanez, Tonganoxie city administrator. "We think we'll have an attractive site for industry. … We think, with 240 acres, we ought to be able to land some big boys."
To the south, drivers also will have a clear route to Eudora. County Road 1 — which becomes Douglas County Road 1061 south of the county line — no longer will be left to carry 1,000 or so vehicles a day, as it did before its closure for reconstruction.
Under the new design, the road will be expected to be able to handle 2,000 vehicles a day comfortably.
Just who ends up on the road, of course, remains a bit of a concern.
Signs for trucks
In Eudora, officials are working on a plan to accommodate an influx of trucks that could be looking for a more direct route to Kansas Highway 10.
The likely plan is to install directional signs at the northern edge of town, steering drivers of tractor trailers to head east to Church Street, then south to whatever highway they want to connect with, Mayor Tom Pyle said.
Regular cars and small trucks, of course, will be more than welcome to continue into downtown Eudora on County Road 1061 — which is Main Street, fresh off a four-block revitalization that includes new pavement, sidewalks, streetlights and even benches.
"We don't have anything against truckers. We just don't want them tearing up what we just finished," said Pyle, owner of Pyle Meat Co., which sits at the corner of Eighth and Main. "We're looking for a lot of passenger cars, for sure. I think it'll be a good thing for Eudora. Once people get into town, they'll stop and look around and buy some beef jerky or something. We're planning on it."
What happens next is anybody's guess, he said.
Discussions continue for establishing a massive intermodal distribution hub in Gardner, and redevelopment always seems to be in play at the former Sunflower Army Ammunition Plant near De Soto. So far, at least, Pyle hasn't heard any concrete plans for building new connections, upgrading old ones or otherwise capitalizing on the regional aspects of the new turnpike interchange to the north and the budding development projects to the south.
But the turnpike interchange should help keep Eudora on the map for future growth.
'A pretty good spot'
"All that will be a great employment draw for this whole area," Pyle said. "We're happy about it. We're sitting in a pretty good spot right here — I knew that when we moved here 58 years ago."
The interchange will include some of the turnpike's most advanced technology. New toll booths already are being installed at each of the four ramps, and all will be managed by on-site machines.
The machines — known as ATPMs, for Automatic Toll Payment Machines — will read drivers' turnpike tickets, then inform them how much they owe. Drivers then pay by inserting bills, coins or credit cards.
Anyone with a problem would be able to communicate with a real toll attendant off-site, using a push-button to connect via video and audio.
Crews from Perry-based Hamm Cos. Inc. continue to press on with construction work on County Road 1. Crews are busy installing the last of 11 box culverts that will run underneath the rebuilt road, to handle drainage. A bridge also is going in over Nine Mile Creek, south of the turnpike.
Fleming, the turnpike's project engineer, figures that the project is a bit behind on contractual payments but still right on track for its scheduled completion. The turnpike authority is spending $7.3 million for the interchange, plus another $2 million for County Road 1 — the portion of the project that is getting about $9 million from Leavenworth County, $1.5 million from the city of Tonganoxie, about $900,000 from KDOT and another $490,000 from a federal earmark.
Both segments of the project are set for completion by Jan. 1, Fleming said — maybe earlier.
"We'll still make it by this fall," he said. "It'll open by the end of the year."