Make 'em laugh: Those People know how to improv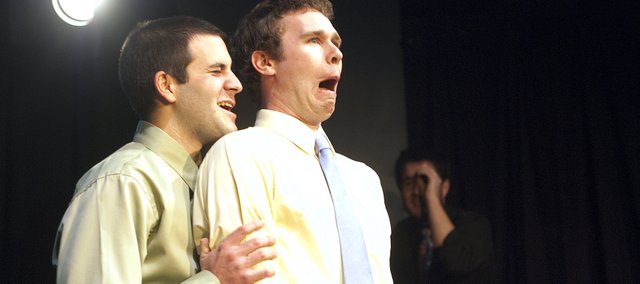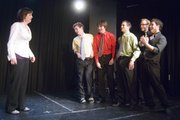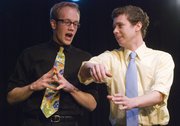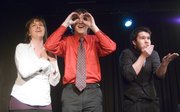 There is only one thing to know about the Improv Thunderdome: Nine teams will enter, but in the end, only one team will leave.
And fortunately for the Lawrence six-person improv comedy troupe, Those People, a chance to be that team is just around the corner.
"I think it was awesome and we're really happy to move on, especially since we won by one vote," Garrett Kelly, Kansas University junior and Tonganoxie High School grad said.
Alex Nichols, Overland Park sophomore and member of the group, summoned his hero Kevin Garnett after winning. He leaned back slightly and said, "Anything's possible," extending the last syllable like Garnett did after winning an NBA title. "That's with 24 Es."
For the last four months, the Westport Coffeehouse, 4010 Pennyslvania Ave., Kansas City, Mo., has been home to the third season of the Improv Thunderdome. Each team gets 30 minutes to compete and at the end it is up to the audience members to vote on their favorite. Six of the teams already competed in the first two rounds.
On Saturday, Those People were up against Trivial Prov-Suit from Bonner Springs and The Trip Fours from Kansas City.
"The people that we were competing with were of such high level," said Doug Altman, Overland Park sophomore, after the show. "It felt that we were competing with real professionals."
Those People is comprised of Kansas University students who study not just theater, but everything from business to journalism. Improvising along with Kelly, Nichols and Altman are Amy Virginia Buchanan, Stillwater, Okla., senior, Spencer Lott, Lawrence junior, and JT Nagle, Osawatomie sophomore.
Nichols said their director, Jeff List, started the group in late 2007 through the KU Theater Department. There were workshops and auditions before the group first performed in April of 2008.
"I'd describe our comedy as unconventional and oftentimes absurd. I think that's a result of our personalities." Nichols said. "We all kind of have a sense of humor that makes us enjoy doing scenes that are a little out there, but not in a forced zany way, and not in a way that alienates the audience."
In the audience supporting Kelly and the others were his parents Mike and Keyta Kelly, as well as his sisters Rachel and Kaitlyn King, Kaitlyn's husband Mark, and his aunt Jacki Himpel. Mike is the city's attorney and Keyta is the director of the 2010 and 2011 Kansas Sampler Festival.
While they couldn't all agree on exactly where Kelly's theatrical talents came from — possibly from his grandmother — he was able to shed a little more light on the matter.
"You see there was this girl, Paula Prosser, she went into theater and I sort of followed."
Prosser was Miss Leavenworth County in 2007.
The championship round of the Improv Thunderdome will be held at 9 p.m. April 11, at the Westport Coffeehouse. Those People will be competing against the first two round-winners, Kill the DJ and Babel Fish. Those People will also be performing at the Granada on March 24 and April 22.
When asked if the troupe would be ready for the championship round, Buchanan only had one thing to say: "Bring it on."