Marx focusing on community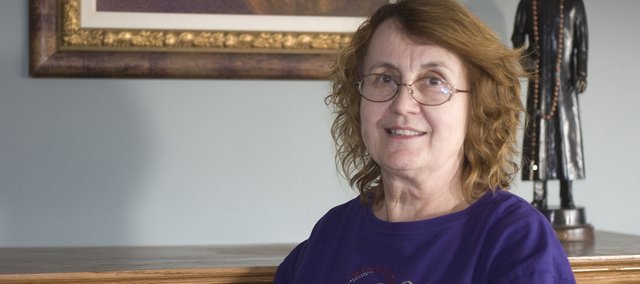 A few days before Sieglinde Marx was born, her mother went to go see the opera "The Valkyrie" by German opera composer Richard Wagner. She liked the name of the lead female character so much she decided that was going to be her child's name.
Marx and her family first came to the United States from Germany in the 1950s. She didn't speak much English when she arrived, but she picked it up quickly.
"By the time I had been here three months I was able to converse and the next year I was good to go."
Marx began her march into work in the public sector with her bachelor's degree in political science focusing on the public sector from Washburn University. Later she received a master's degree in public administration from Kansas University and has taken a variety of graduate level courses in different places including the United States Naval Academy.
Now that she has retired from working with the Department of Veterans Affairs, she wants to focus on the greater good of the community she has lived in for about three years.
"It's a neat place," Marx said about Tonganoxie. "Everybody looks out for everybody else. If our neighbors don't see us for a few days, they call to see if we're OK. You don't find that in big cities."
She believes her years of experience working for the federal government has given her a keen sense on balancing the public's interest while remaining fiscally responsible, stating that she knows how to count pennies.
"I am a firm believer that when you are spending public money you need to be 100 percent accountable," Marx said. "It's not like your money out of your checking account that you can do whatever you want, when you want if you want. This is the public's money. That's a whole world of difference. I think it's very important that you have accountability and I'm not sure that's happening."
She also said that she knows it will be impossible to make everybody in the town happy, so she will try to do what is best for everyone and not any particular group.
"You have to do everything above board and be accountable," she said. "You need to do what is the best for the majority of the population or else you are not doing something right."