Rock chalk Gonzaga? Zag grad a
KU

fan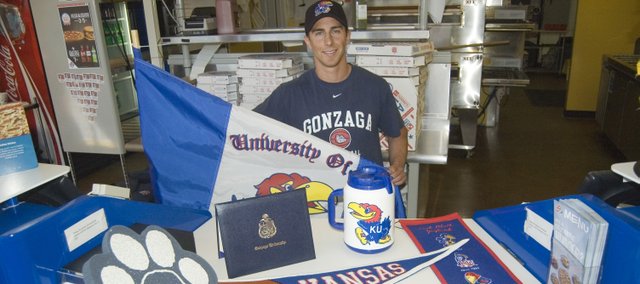 If Kansas University gets knocked out of the NCAA Tournament, Patrick Kelly has a backup plan.
Kelly, a graduate of St. Thomas Aquinas High School in Overland Park, also is a Gonzaga University graduate.
Like KU, Kelly's alma mater is a regular in the men's college basketball tournament.
Franchisee of the Domino's Pizza in Tonganoxie, Kelly grew up on KU athletics, thanks to the influence of his father, Steve Kelly, who owns the business center in which Domino's is a tenant in Tonganoxie. Steve went to KU, so it stood to reason his children would follow suit.
"Since we were born, we were KU fans," said Patrick, who along with the rest of his family lives in Olathe. "Pretty much born and bred KU."
But when Patrick and his twin brother, Justin, who with Steve are partners in the Domino's business venture, were looking to further their educations, they didn't head to nearby KU.
Instead, they landed at another basketball school in the Pacific Northwest.
"It's a good academic school near the mountains," Patrick explained. "We like to do outdoor stuff. Fish, hunt, camping. We wanted to try something new."
Actually, Patrick and his brother started to learn about Gonzaga thanks to its notoriety in the NCAA Tournament. The Bulldogs, since 1999, have gone to the tournament every year. In their first few appearances, GU was the underdog with a knack for knocking off the bigger schools.
In 2001, Patrick and Justin began as freshmen at Gonzaga, and in 2005, both graduated with business degrees.
Patrick was a member of the Kennel Club, Gonzaga's version of Duke's Cameron Crazies, and watched games at 4,000-seat Charlotte Y. Martin Centre his first two years at GU. The Bulldogs then moved into 6,000-seat McCarthey Athletic Center.
"They wanted to keep it small so it was still loud, but really it could have been 10,000 (seat capacity) because it would have filled up," Patrick said. "That's all Spokane has (for sports teams). That's their team I guess."
Asked to measure it up to Allen Fieldhouse, home of KU basketball, Patrick, who is 26, said he couldn't.
"It doesn't compare to Allen Fieldhouse," he said. "Nothing does."
Patrick recalled the best game he'd seen while at Gonzaga. His freshman year, Patrick traveled to Portland, Ore., with some friends for a game against Portland University. Gonzaga was down 15 or 20 points with 10 minutes to go, Patrick said, and then GU came roaring back.
"Dan Dickau took over and started hitting three's from all over the place and came back and won it," Patrick said.
Patrick said Dan Dickau was his favorite player, and he was a fan of another standout, Adam Morrison.
"Those two could just turn it up and just shoot lights out anytime they wanted," Patrick said.
Patrick and some friends from college met up recently in Las Vegas for the West Coast Conference Tournament to watch their alma mater.
He contends that if the Bulldogs play as they did during that tournament, they should do well in the NCAA Tournament.
Of course, he'll also be rooting for the Jayhawks, a trait his friends in college would give him grief about while in Spokane.
"They used to when we were out there, but we actually converted a lot of them to KU fans," he said. "One of them's an Arizona fan and one of them is a North Carolina fan, so we have some heated battles."
His work schedule doesn't lend itself to catching many games at Allen Fieldhouse anymore, but he does plan to follow his teams in the NCAA Tournament.
"I'm gonna make it work," Patrick said with a laugh.
He's happy to root for both his teams in the tournament, but dreads the day he would have to choose between the two.
"It's a good thing as long as they don't have to meet up in the one of the tournament games," Patrick said.
Although he would be in a tough situation, the Gonzaga graduate/KU fan would have quite the game on his hands this year.
If the teams were to meet, they would play in the national championship game.