What a deal: Non-winning lotto ticket pays off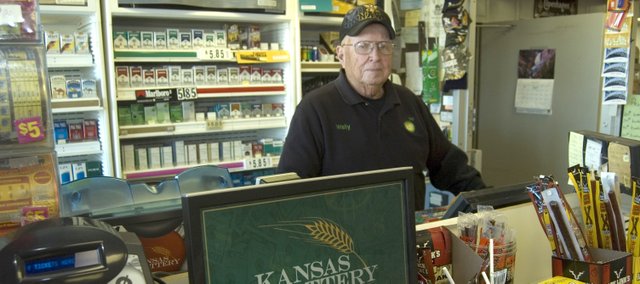 Wally Moore of Tonganoxie has purchased Kansas Lottery scratch-off tickets off and on since the lottery's inception more than 20 years ago.
Obviously, not every ticket has been a winner for Wally, but one of those non-winners recently turned into a trip to Hollywood, Calif., and a chance to appear on the daytime version of "Deal or No Deal."
The 76-year-old Moore sent in his non-winning Deal or No Deal-themed lottery tickets for a Kansas Lottery second-chance drawing. One of his tickets was drawn for a vacation package to California.
"The wife found out first and then she called me," Moore said. "Needless to say we were both pretty happy."
His wife, Janet Moore, said she is eager to get to Hollywood for what she hopes will be warmer weather.
"Well, we're excited," Janet said. "We've been out in that area once before, but this is going to be different. It's very exciting."
According to Sally Lunsford, director of communications for Kansas Lottery, the grand prize trip is valued at about $11,150. The Moores will fly to Hollywood, Calif., where they will spend five days and four nights at a luxury hotel. Wally will receive $2,000 cash for spending money and another $500 when Janet and he arrive in California.
He's not guaranteed to be part of a television broadcast, but Wally does have a chance to play "Deal or No Deal" with Howie Mandel. The show will be broadcast on national television stations that NBC Universal syndicates.
Asked whether he's won before with Kansas Lottery tickets, Wally said, "This is it," with a chuckle. "This is the only big prize I've ever won."
Janet said they watch the television version from time to time, but said there's really no strategy to playing the game.
"We've watched it a couple times," Janet said. "I've seen people get very high on it and stay on it and lose everything. We've talked about it.
"Other than that, he's on his own."
Regardless, the Moores are happy they were selected for the trip.
"It's going to be exciting just to be there," Janet said.