Chieftains turn to bats, pitching battery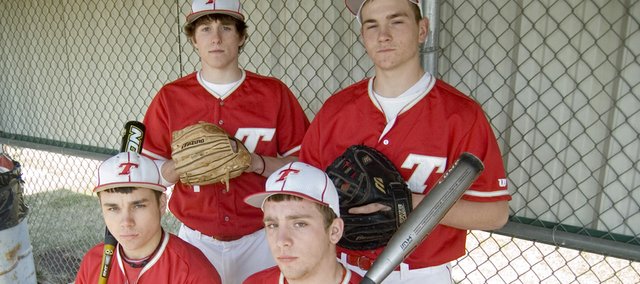 Despite two major losses to its starting rotation, the Tonganoxie High baseball team isn't setting minor goals this season.
Gone from the Chieftains' lineup are pitchers Logan Forbis (48 innings pitched, 2.33 ERA in 2008) and Erick Lowe (37 2/3 innings, 4.46 ERA), the team's biggest and most effective innings-eaters. But coach Phil Loomis said he is confident in this year's throwing corps, which, heading into the season, includes at least eight hurlers, and the team still has state aspirations.
"It's going to be more of a mix than putting this guy out here and saying, 'I'm gonna get five innings out of him.' The thing about this group though, I think they're going to be more competitive," Loomis said.
Last year, just four pitchers threw 15-plus innings. The top returners are junior Tyler Lupton (20 innings, 1.40 ERA) and senior Jace Waters (17 1/3 innings, 6.87 ERA), but Lupton is out of the mix currently because he had surgery on his right shoulder this past winter. That leaves Waters as the likely No. 1 with junior Brandon Yoder and sophomore Ethan Lorance also competing for starting jobs on the mound. Seniors Blaize Oelschlaeger and Rob Schlicht both have middle-relief experience. Newcomer junior Dylan Caywood, who Loomis said has a "live arm," could come in for closing situations. Sophomores Jeremy Wagner and A.J. Gilbert also are listed on the roster of possible pitchers, as is senior Kyle Newton.
None of those players, though, is a traditional No. 1 starter.
"Jace is probably our ace," Schlicht said, "but we don't really have like a true pitcher."
Waters hopes to carry the team through the early part of the season and realizes there is no guarantee he will end up being Tonganoxie's best hurler.
"We're pretty deep in pitching, we just don't have a lot of hard throwers," Waters said, noting he doesn't throw overly fast. "I'm gonna have to live on the outside corner and be a smart pitcher."
With that part of the team uncertain, at least the Chieftains shouldn't have to worry about offense. Hitting should be successful with four of the top five averages returning from last year's 14-9 regional runner-up.
Loomis said the key to early season success would be getting off to a hot offensive start instead of eventually warming up like THS did last year.
"Just putting the ball in play with authority this year is gonna be a difference," the fourth-year coach said. "Last year we just dribbled the ball to second base and couldn't move a runner. This year when we get down in the count I feel more comfortable that we're going to be more productive."
The top of Tonganoxie's lineup will feature Schlicht, Lorance, Waters, Yoder and Oelschlaeger. The team's leadoff man said he is looking forward to an effective offensive attack.
"I definitely think the top of our lineup is going to be really productive," Schlicht said, "hopefully put up a lot of runs. We've got a lot of good sticks back."
Aside from the pitching, Loomis said the biggest difference in this year's team in the first few weeks of practice has been its self-assured attitude, which, the coach warned, isn't always a good thing.
"We've come out cocky, and we're not good enough to be cocky," Loomis said. "We're not D-1 athletes that can just show up and get things done."
Waters said he has noticed the cockiness Loomis mentioned.
"I have seen it, and I hate it," Waters said. "I know that we're coming off of runner-up and everything but our pitchers really carried us — Erick (Lowe) and Logan (Forbis) just threw really well for us. We just need to make sure we don't get overconfident and make sure we can still hit the ball and play defense like we always have been."
If they do that, they hope to make it a step farther in the postseason in 2009 and earn a trip to state. Loomis said that should be the team's goal.
"They, in their minds, know that regional finals is not an option for them this year," Loomis said. "If they don't make state, they will feel very disappointed because they know that they touched a little bit of their ability at that level."
With a successful battalion of pitchers and no drop-off in offensive production, Schlicht said a state trip is attainable.
"Right now, we think we can get to state," he said, "and I think our goal should even be to win a game at state."
Tonganoxie opens its season with a four-game road stretch that begins Thursday with a 4 p.m. double-header in Shawnee against Mill Valley.