Talent runs deep with Tonganoxie track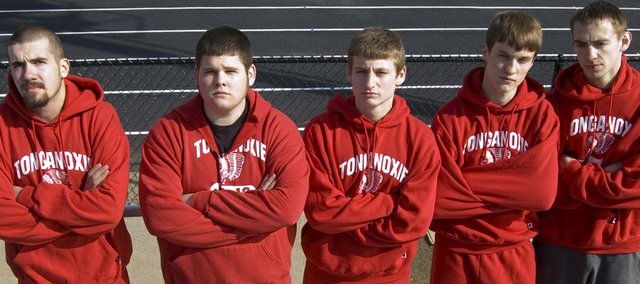 Following a very successful 2008 season, the Tonganoxie High boys track team could be just as good this year thanks to a deep, balanced roster.
THS coach Phil Williams said this year's squad is full of Chieftains capable of scoring points in an array of events, which should make the team tough to beat.
"Our points should be well-distributed among most of the events," Williams said. "We should score in almost everything in most meets, which will help our team total. I think the most should come in the sprints and middle-distance, and I'm looking for a great year from our vaulters."
With accomplished sprint and mid-distance runners D.J. Lindsay, Jeremy Carlisle, Bret Koch and Austin Stone all returning, the Chieftains will be able to count on them for a boost as they did last year. What could be different this season, as Williams alluded to, is some scoring in the pole vault. The coach said sophomores Jake Willis and Ian McLellan could be two of the top vaulters in the area.
A senior, Stone said the 4x400 relay team, which he manned with Carlisle, Koch and Lindsay last year, is hoping for continued success in 2009 after placing fourth at state and setting a new school record last year.
"Obviously, our major goal is to get back to state," Stone said. "Everyone on our 4x4 team is wanting to break their own personal record and the school record again. And with as much work as we've been doing in practice, I think it's going to happen this year."
Senior long-distance runner David Powell said the team is looking forward to another strong year from its sprinters, which could become even better with the addition of Shawn Marin.
"The sprints (last season) were the biggest area where we came out and were a lot stronger than we were in past years and that's how we were able to win a lot of meets," said Powell, who runs the 2-mile and 4x800 races. "Hopefully our 4x8 can be up there, too, and all the relays will be great."
Among field events, Williams said Shawn Roberts, Reece Hollingsworth and Lucas Ahart have a chance to score in the javelin, James Edwards and a crew of young guys are looking good with the shot put, Stephen Wilson will handle discus duties, Austin Smith will compete in the high jump (as could freshman Dylan Jacobs) and Dylan Scates will represent THS in triple- and long-jump events.
With so many athletes competing, Stone said the Chieftains can't help but get better.
"I think that's gonna benefit us in a lot of ways," Stone said of the high volume of competitors. "One: It's gonna give us something to work for because some of these younger guys are coming in and wanting to take some of our spots, which in turn is gonna push us and make us work harder. And we can also teach them a lot for the upcoming years, so I think it's gonna be beneficial for both age groups of the guys."
Tonganoxie won a regional championship last year and this year's depth, Williams said, makes the team a contender to do it again.
"How we do in the regional meet will, of course, depend on who else is assigned to it," the coach said, "but I feel we have the top talent to win several medals as well as the depth to score in a variety of ways no matter who we run up against."
The 2009 season begins for Tonganoxie on April 7 at the Lansing Invitational.