Tough as Bulldogs
Gritty group of seniors leads McLouth softball team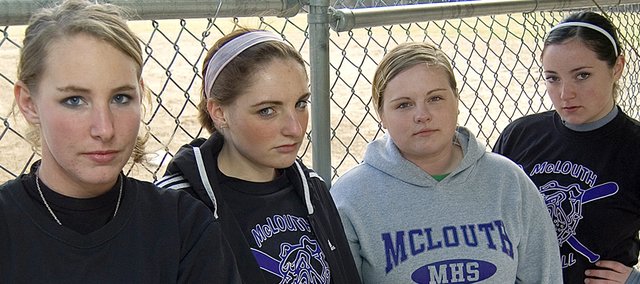 That's not football practice taking place on McLouth High's diamond.
It just looks that way because of the hard-nosed, gridiron mentality that Bulldogs softball coach Ballard Patterson is trying to instill in his team.
MHS hasn't practiced inside once this preseason as the Bulldogs prepare for what they hope will be another run at a state championship. Come rain, shine, mud or freeze, McLouth's players have been out on the field going through softball boot camp in preparation for the upcoming season.
"We've been out here practicing in the elements and it's been really good because if we're out here in this, there's nothing we can't do," said senior catcher Kendall Patterson, one of seven returning starters from last season's 22-1 team that finished third in Class 3A.
She said practicing in rough weather isn't fun in the moment, but working through adversity builds confidence, character and good feelings once the hurdles are overcome. All of the program's 31 players are hardcore dedicated to McLouth softball, and their coach said practices in the cold and rain are meant to test the players' resolve.
"It's a lot harder to give up when you've already gone through hell to get there," Ballard Patterson said. "This isn't for everybody, and we offer them the gate every day."
At a March 11 practice, it was 23 degrees outside and the team's coach announced that anyone was free to leave practice early but each and every player gutted it out.
"Their cheeks were rosy red, their hands were hurtin' and we're out here hitting," Patterson recalled, adding that no one complained.
That's because the team wants a state championship after coming so close in 2008. Senior Lezley "Lulu" Lawson, the team's ace hurler, said the Bulldogs have more than just the talent necessary to bring McLouth a title.
"We're obviously putting the heart in, coming out here in this freezing cold," she said of bad-weather practices.
That toughness the players have shown should make their talent even stronger. With all-state first-teamers Patterson and Lawson coming back and five more returning starters around them, the Bulldogs expect to be just as dominant this year. Kaley Patterson, second-team all-state last season, will play first base, Missy Rome and Jessie Troupe return to hold down the middle infield, senior Deanna Durkes is back at third base and outfielder Courtney Stauch, cleared from a knee injury, returns as well. Senior Amanda Friesz will be a new outfield starter. Lindsey Mills likely will play and freshman Morgan Drinnon, Coach Patterson said, will be tough to keep off the field.
Asked about expectations for 2009, Kendall Patterson said they are as high as ever.
"Win state," she said. "That's all we want to do, that's all we wanted to do last year."
Lawson agreed.
"It would be really cool if we could go all the way; not only for us — for our own determination, for what we've been working for to pay off — but also for the school," she said. "That would be really good for the town."
In 2008, the Bulldogs relied on hurlers Lawson and Sam Farris. With Farris' graduation, sophomore Kaley Patterson will be the team's second starter in the circle. Her older sister and catcher, Kendall, said Kaley shouldn't have much trouble filling that hole.
"She's going to really complement Lulu because Lulu throws really hard, and Kaley throws a little bit slower but her junk is really good," Kendall said, complimenting Kaley's off-speed pitches.
The sisters' coach and father, Ballard, said MHS pitching should be deep with at least four others capable of throwing, and said Lawson, with her "come at ya, and throw it by ya," approach, will see the majority of the work. The coach said Lawson is the team's clear leader and she had adopted the exact attitude he wants to see in all the players.
"She sets the pace and gives us a grittiness, a toughness that we need," Patterson said.
Her fellow seniors, he noted, are there to support Lawson, too.
"This is a fantastic senior class," Patterson said, "and even though there's only four of them, their leadership will help us get where we want to go, and that's to state, of course."
McLouth's season begins April 3 at 4:30 p.m. when MHS plays host to Atchison.