Election draws near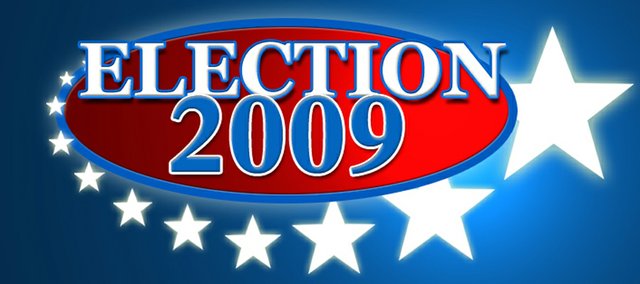 As campaign signs dot several properties in the area, it can mean only one thing: Election Day is near.
In less than a month, races for area city council and school boards will be determined.
The general election will be held Tuesday, April 7, as numerous candidates are vying for seats.
At 7 p.m. Thursday, voters will get a chance to talk with candidates in Tonganoxie City Council and Tonganoxie School Board races. A meet the candidates event will be held at that time at the Tonganoxie VFW Post Home, 901 E. First.
In the City of Tonganoxie, candidates are looking to fill three council seats. Both Jason Ward and Jim Truesdell are running for re-election, while Steve Gumm is not seeking another term.
Joining Ward and Truesdell this election year are Burdel Welsh, Sieglinde Marx and Roger Shilling.
Like the city council race, two Tonganoxie School Board members are seeking to remain with the board past their current terms. Incumbent Kay Smith, as well as Doug Tate, who is running for his first full term, are those two school board candidates. Tate was appointed to his position in 2007 after Bob DeHoff resigned.
Joining Smith in the race for Position 5 is Randy Wager. Dan Hopkins is running unopposed for Position 4, which will be vacated by current board member Darlyn Hansen, who is not seeking re-election.
In the Position 6 race, Tate is joined by Kris Grinter and Tim O'Hagan.
McLouth
In McLouth, a mayoral race and council races will be decided April 7.
Current Mayor Mike Graveman is running against challenger Keith Meador, while Barbara Hasemeier, Robert Smith and Harlan Woodring are challenging current councilmembers Karl Abegg and Kim Perry for their two seats.
In the McLouth School Board races, two candidates are running unopposed, while a third has three candidates.
Jessica Folsom is running unopposed for Position 5, while incumbent Mitch Campbell is running unopposed for Position 6.
Folsom seeks the board position that Leah Bristol currently holds. Bristol will not seek her first full term, as she was appointed to Don Edmonds' seat Jan. 14, 2007. Edmonds left the board after winning a Jefferson County Commission seat.
The contested race is in Position 4, in which incumbent Doug Walbridge will face challengers Kristi Carlton and John Hart.
Basehor
For Basehor City Council, there are two candidates for mayor — councilmember Terry Hill and council president Iris Dysart. Current Mayor Chris Garcia is not seeking re-election.
In another Basehor City Council race, Dennis Mertz and David K. Breuer are running for the seat of councilmember Keith Seifert, who is not running for re-election.
The Basehor-Linwood School Board has three open positions, but only one is contested.
Richard Zamora, Leigh Ferris and LeRoy Scharnhorst are running for Position 5.
Pat Jeannin currently holds that seat, but is not seeking re-election. Running unopposed for Position 6 is incumbent Gary Johnson and running unopposed for Position 4 is Wynne Coleman.