Jump Around
TES

students exercise for a healthy cause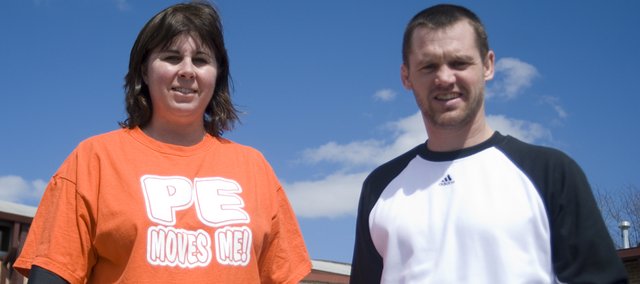 Tonganoxie Elementary School physical education teachers Ursula Kissinger and Jeremy Goebel once again are leading TES students in Jump Rope For Heart, which has been a tradition in Tonganoxie for some time. Here are Kissinger's answers to our five questions:
Q: How and when did Tonganoxie get started with Jump Rope for Heart?
A: I'm not exactly sure of the date Tonganoxie got started with the program, but this is the 30th Anniversary of Jump Rope for Heart and I know Tonganoxie has been involved in at least 25 of those years. Coach Jeannin and Marilyn Lobb first started the event in Tonganoxie.
Q: How much money did the school raise?
A: We are still collecting donations through this week so we are not sure of the exact amount yet. We have been the top JR4Heart event in Northeast Kansas at least three times, raising more than $7,000 each time and usually with an average of $5,000.
Q: Do the students learn anything from this activity?
A: While we are teaching our jump rope unit, we use the opportunity to talk about the heart and aerobic exercise. We also talk about volunteering and helping others in the community.
Q: How do they like jumping for a cause?
A: The students at Tonganoxie have always done a wonderful job of volunteering their time to get donations for the American Heart Association. I believe this helps them to understand that they can jump and do activities because they are healthy and that others of all ages are not so fortunate. By volunteering their time and effort, they are helping others less fortunate. Because of our previous successful events, I think the students have shown that they like the event. The AHA rewards the students by giving them thank-you gifts based on the amount they raise. The AHA also rewards the school by giving the physical education department gift certificates for physical education equipment and therefore everyone involved benefits from the event.
Q: What can people do if they want to donate money for this cause?
A: If anyone would like to donate to the American Heart Association, they can contact Jeremy Goebel or Ursula Kissinger at Tonganoxie Elementary School. We want to thank everyone in the community for their generous support of our students and of our Jump Rope for Heart event.