Recycling efforts stepped up after discontinuation of
SORT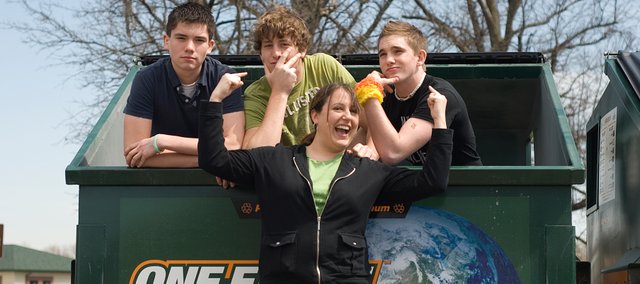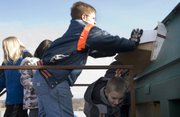 Even though St. Patrick's Day is done, Tonganoxie isn't getting any less green.
Three Tonganoxie High School seniors, along with a teacher, are working toward bringing another recycling center to Tonganoxie.
"I thought that the students becoming involved in such a community and global event would be valuable not only in their futures but in the future of Tonganoxie," said Jessica Johnston, a THS art instructor who is helping bring the center to the school.
Robert Brotherton, along with Austin Smith and Kevin Hamm, saw the need for a school-wide recycling program when previous attempts at one had failed. The three decided to rebuild the recycling program as part of their leadership class, which asked the students to focus on something they were passionate about. When Brotherton learned that the county was shutting down the Tonganoxie SORT program at the Leavenworth County Fairgrounds, they decided to make recycling their main goal.
"We all decided that we wanted to leave an impact so we thought why not start a recycling program with our school and branch out to the community," Brotherton said.
The group made contact with Deffenbaugh Industries, which has a recycling program specifically targeted for schools.
Inside the schools, Deffenbaugh will put various recycling bins for the students and faculty to use. Outside the school, Deffenbaugh will provide the school with large bins to collect plastics Nos. 1 -7, aluminum, newspapers, magazines and office paper, cardboard and chip board. Deffenbaugh will not take plastic bags or glass. It will also schedule a biweekly pickup of the recycled materials.
As of Tuesday, a bin has been placed at the southeast corner of U.S. 24-40 and Northstar Drive to allow easy access and visibility to residents.
The company will also provide the school with a report on how many tons of recycled goods were collected. The school gets a rebate based on the market price of the materials.
Johnston said it was a great way to get the school and community involved in doing something good for the environment and giving back to the school.
The city will still retain its other recycling drop-off center next to Triple Creek Realty, which is provided by Honey Creek Disposal.
The center on U.S. 24-40 recycles the same items as the Deffenbaugh program, but does not accept newspapers, steel cans, magazines or glass.
Proceeds from recycling aluminum cans at the Honey Creek drop-off center goes to local Boy Scout troops, and Kevin Weldon, owner of Honey Creek Disposal, has previously stated that recycling newspaper and magazines at the Abitibi Paper Retriever Community Recycling bins at the Tonganoxie Elementary also gives money back to the school.
He said Tuesday that he provides his recycling center as a free service to the community and had no problems with the high school's new bins.
To recycle glass, residents must go to the Leavenworth County Solid Waste Transfer Station at 136th Street and Gilman Road.