Wager set to give back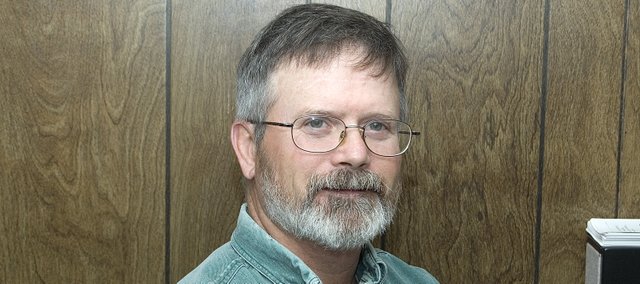 Randy Wager went to school "all over the place" and graduated from a high school in California.
A goal he had was for his son to attend school in one place from kindergarten through 12th grade.
His son, Caleb, now is a junior at Tonganoxie High School.
With that goal nearly achieved, Wager now is ready to give back to the school district.
"There were various things, but mainly it's just a sense I appreciate Caleb's education," Wager said, explaining why he decided to run. "And he's getting close to graduation and I think everybody should give something back to the community. That's one way I felt I could."
Employed with Leavenworth-Jefferson Electric Cooperative as a foreman for line clearance of right of way, Wager actually was born and then raised for a few years in the area, as his family has farmed for more than 100 years near Jarbalo. He, his wife, Ronda, and Caleb now live in the area where Randy spent his early years.
If elected, Wager said he's ready to listen to all sides of issues.
"What I feel is my strength is just that I'm kind of measured in my responses," he said. "I can look at both sides of an issue and make decisions on facts and not emotions and feelings.
"I don't necessarily have any disapproval of the way the school systems is being run. In fact, I think we have a good school system. I just want to maintain that and keep Tonganoxie on the right track."
Wager said he's visited with building administrators and thinks they're "all qualified individuals."
"The new assistant superintendent is a good fit for that job and I look forward to working with all of them," Wager said, referring to Kyle Hayden, who will replace Richard Erickson as superintendent this summer.
With the difficult economic times, Wager said "there will be places we'll need to cut."
But he said he wanted to be sure to retain teachers and staff as best as possible.
"Most important to me is to try to keep the teachers and staff," Wager said. "The people will be the hardest thing to replace when times get better again."
Wager is running against incumbent Kay Smith for Position 5.