Dollar General killers receive life in prison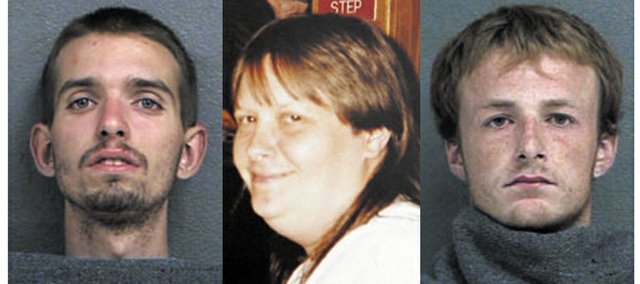 A Wyandotte County District judge on Thursday sentenced two men to life in prison for a November 2005 murder in Bonner Springs, calling the crime the most brutal he's seen in his years on the bench.
Juries in separate 2008 trials convicted Robert Haberlein, 20, of Kansas City, Kan., and John Backus, 21, of Bonner Springs, of three charges — first degree murder, aggravated kidnapping and aggravated robbery — for their involvement in the incident on Nov. 11, 2005 that culminated in the death of Robin Bell, a 44-year-old Tonganoxie resident who managed the Dollar General store at 612 130th St. in Bonner Springs. Bell was found dead Nov. 12, 2005, in the store.
In addition to Haberlein and Backus, a third person, Amber Russell, 18, of Lenexa, faces charges in the case. Russell, who was 15 at the time of the slaying, has a deal with the Wyandotte County District Attorney's Office that she will be tried as a minor in exchange for her truthful testimony in the trials of Haberlein and Backus.
Haberlein's Thursday morning sentencing hearing began with a request from his attorney, Richard Payne, for a retrial based on newly discovered evidence as well as a lack of evidence and inconsistent witness testimonies in the original trial. That request was denied by Judge John McNally.
Wyandotte County Deputy District Attorney Sheryl Lidtke then argued for life in prison and a Hard 50 sentence for Haberlein.
"(The murder) was like nothing I've ever seen before," Lidtke said. "They tortured (Bell) and beat her to death. They desecrated her body. (Haberlein) needs to be in prison for the rest of his life."
Lidtke also read two letters, one from Bell's mother and another from her daughter. Lidtke said the two women asked her to read the letters because of their overwhelming emotions surrounding the trial.
"She was more than my mom, she was my close friend. She never did anything wrong to anyone. She was the glue that held our family together," wrote Bell's daughter, Melissa Mathia.
As the statement was read, tears began to flow throughout the courtroom. Among those crying was Lidtke, who had to pause and compose herself before continuing to read the letter.
"Robert Haberlein should be locked up for as long as lawfully possible so no other families have to go through what we have these past few years," Mathia wrote. "When you have someone taken from you so gruesomely, it never leaves your mind, no matter how much you try to distract yourself."
Haberlein was given the chance to speak and in a short statement asked for forgiveness.
"I stand here before Robin Bell's family, I will stand before the court, and I am sorry for all that has happened," he said. "My Lord has held my hand all the way. Lay down your stones, and close your eyes. God bless the hearts of all. Thank you. Please forgive me."
McNally sentenced Haberlein to life in prison with no chance of parole for 50 years for the crime of first-degree murder and to consecutive sentences of 253 months for aggravated kidnapping and 59 months for aggravated robbery, for a controlling term of life plus 312 months.
After a break Backus' sentencing hearing began in similar fashion. Backus' attorney, James Colgan, requested a retrial, which was denied by the judge.
Statements made by Lidtke and the friends and family of Bell were much the same as was said during Haberlein's sentencing.
Backus, however, has adamantly denied any connection to the murder from the beginning. Despite a confession that he said he made out of fear from pressure from his first lawyer and police detectives to accept a plea agreement, Backus continued to deny any wrongdoing.
"As a whole, listening to the witnesses hurts me a lot," Backus said during his turn to speak. "These people are lying, and now I'm going to get life in prison for something I didn't do."
Bell's husband, Don Bell, then stood up and made his last statement of the day.
"I don't believe it," he said. "I don't feel sorry for him. I feel he should be put away forever."
McNally sentenced Backus to life in prison with no chance of parole for 50 years for the crime of first-degree murder, and to consecutive sentences of 586 months for aggravated kidnapping and 59 months for aggravated robbery, for a controlling term of life plus 645 months.
"This murder was committed in an especially heinous, atrocious and cruel manner," McNally said. "This is the most brutal case I've seen since becoming a judge 14 years ago."