Chieftains shut out Braves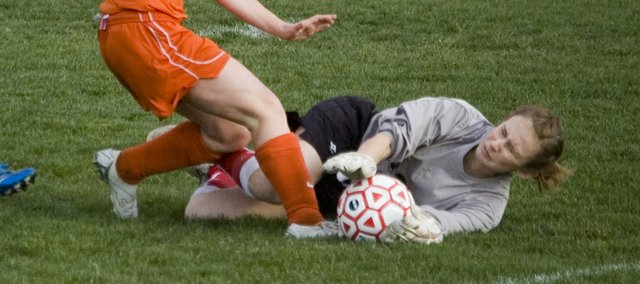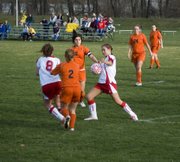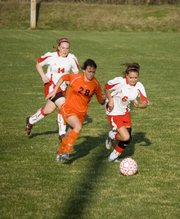 The Tonganoxie High girls soccer team shut out Bonner Springs on Monday night for its first victory of the young season.
THS improved to 1-1 with a 2-0 victory at Chieftain Park.
The Chieftains' first goal came in the 15th minute when a Braves defender trying to clear the ball misfired. THS junior Lauren Williams gathered the ball and shot it with ease into the back of the net for her first goal of the year.
Tonganoxie took a 1-0 lead into the half and improved upon it in the opening minutes of the second when freshman Shyanne Gergick found the back of the net as she followed a cross toward the back post for a score.
Sophomore goalkeeper Alex Bartels recorded the first shutout of her varsity career in the win and looked confident in doing so. THS coach Ken Lott said Bartels always covers her area well and credited the team's overall defense with creating the shutout.
"When you don't get any good or decent shots on goal, your goalkeeper's gonna do well," Lott said.
Different players stepped up on defense throughout the match for Tonganoxie. In the first half, Lott said Gergick was "a hindrance" to the Bonner Springs offense and Taylor Colgrove and Kendra Walters put a lot of pressure on Braves attacks.
In the second half, Colgrove and Carson Simmons stood out, as did Colby Bennett, who undermined a potential BSHS score when she cleared a cross in front of the THS goal and kicked it out of bounds.
"Everybody on defense played really well today," Lott said.
Such was the case for the entire team as the young squad showed a lot of cohesion, which Lott said was a good sign.
"They're finally starting to feel comfortable with each other and know what each other can do," the coach said. "They've still got a little ways to go."
The Chieftains will have their third straight home game on Thursday at 6 p.m. when Spring Hill visits.