Meet the Chieftains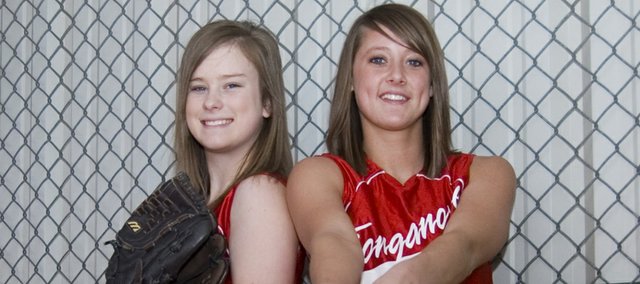 The first few days of Tonganoxie High softball practice this season could have doubled as a meet-and-greet.
With just two seniors returning, and six of last year's top players (a group that included all three pitchers from that team) gone, "Hello, my name is:" tags might not have been a bad idea.
"None of us have played together that much and nobody has that much varsity experience," said Chieftains senior outfielder Lauren Himpel, a first-team all-state selection in 2008 who will be the team's go-to player. "I'm gonna have to make sure that everyone is on the same page and pumped up and ready to go."
Himpel hit .455 last year and had a .560 on-base percentage but the only other returning player among the top eight hitters on last year's squad is shortstop Kaitlyn Wolken. She batted .256. Still, coach Diane Titterington said Wolken has improved and she leads a group of players who should help Himpel in producing some runs. The coach said McKenzie Knight, Alisha Barnes, Tiffany Jacobs, Makayla Leslie and Angela Jacobs have been hitting well in practice.
"I think we will have several that will step up this year," Titterington said.
Early-season success, the coach added, could depend on Tonganoxie's ability to out-hit opponents because young teams generally run into defensive or pitching struggles. The team should be strong in the outfield with seniors Himpel and Emily Gripka, and Wolken's play at shortstop should make the squad solid up the middle. Gripka expects the team's gloves will improve as the season progresses.
"Once we have the cohesion and everybody used to playing with each other, defense will probably be one of our strengths," Gripka said.
Replacing last year's pitching staff are four hurlers: junior Angela Jacobs, freshman Brooklyn Kerbaugh, sophomore Tiffany Jacobs and junior Nikki Pennington.
Like the defense, Gripka said all aspects of Tonganoxie's play likely will improve with experience.
"Although we'll be a very young team, we'll be really competitive," she said.
Titterington certainly thinks that will be the case, and she said the team's "can-do spirit" might be its biggest strength at this point.
"They're young but they're really picking up on things pretty quickly," she said. "And because of that no one has come in here with an attitude of 'I know everything.' That goes a long way."
Especially when teammates are just getting to know one another.
The Chieftains open their season Thursday at 4 p.m. when they play host to Jeff West.