Senior duo leads small McLouth track team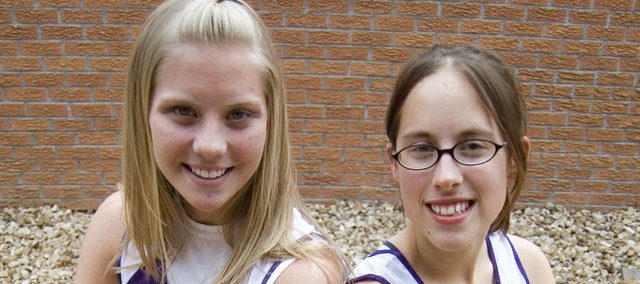 The McLouth High girls might not have the numbers to win team titles this year in track, but that doesn't mean the Bulldogs aren't looking forward to competing.
MHS coach Gerald Aligo let his athletes know that each meet will prepare them for their regional, where they can qualify for state.
"I just tell the girls each meet is just another meet against competition that will get you ready," Aligo said.
McLouth has had success qualifying girls for state through the years and last season was no different as Anne Courtney, the Delaware Valley League champ in the 100-meter hurdles, went to state as a hurdler and she teamed with Miranda McLaughlin, Logan Terry and Courtney Chilcoat to qualify the Bulldogs' 4x100 relay team for state.
Aligo said Courtney has a chance to do just as well this year and McLouth's younger athletes could have a good season as well. The team has just two seniors, Kasey Campbell and Gelia Gardner. Campbell specializes in the pole vault and Gardner competes in three events — long jump, 300-meter hurdles and 1,600 meters.
Even though their senior numbers are small, Campbell said it isn't difficult for them to lead because the younger athletes are willing to listen and learn.
"We're a small group and everyone listens to everyone," Campbell said. "Everyone's supportive. I don't think we're bossy leaders, we're more of the supportive type."
Gardner has taken on a large leadership role with the distance runners because she has a lot of experience in cross country. She makes sure the freshmen are doing their workouts correctly and not letting up.
But when it comes to long jumping, Gardner said she defers to McLaughlin, a junior who went to state in the long jump her freshman year.
A hurdler since seventh grade, Gardner has plenty of mileage in that event but she said Courtney is the team's leader with hurdles, explaining that Courtney is a better sprinter than the long-distance specialist.
"She can get faster between the hurdles than I can," Gardner said. "She's really good. I kind of wish I was that good."
Campbell said she is looking forward to the season, which begins at 4 p.m. Tuesday when MHS travels to the Oskaloosa Invitational, because the team has a lot of young potential.
"The people that we do have shouldn't be overlooked at all," Campbell said. "I think it'll be fun to see how much better everyone gets."