Bitter Chieftains batter Braves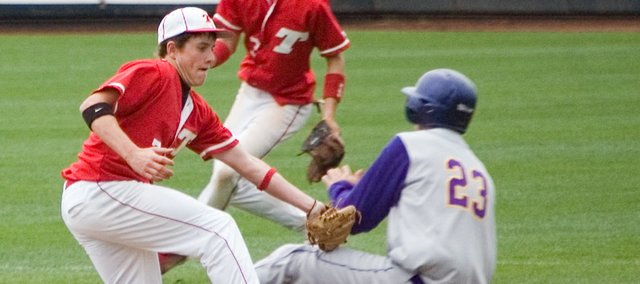 Kansas City, Kan. — The sky was overcast but at least there was no rain Friday morning for the second day of the Butch Foster Memorial Baseball Classic at CommunityAmerica Ballpark.
The games started as scheduled with the last game of the first round, Spring Hill versus Tonganoxie.
GAME ONE: SPRING HILL 8, TONGANOXIE 1
Tonganoxie kept Spring Hill scoreless for five innings in what had the makings of a great pitcher's dual between the Broncos' Jordan Miller and the Chieftains' Brandon Yoder but SHHS ended all thoughts of that and knocked Yoder out of the game with a six-run sixth inning.
Tied, 1-1, entering the sixth, Spring Hill senior Jesse Mayes gave his team the lead for good with an RBI-double to the left field gap. Mayes scored the Broncos' third run when Brady Donahue drove him in with a double.
Yoder threw 5 1/3 innings for THS and didn't allow a run until the fifth. He struck out three before he was relieved by senior Rob Schlicht with one down in the sixth. Schlicht finished the game and allowed three earned runs.
Except for the second inning, when Yoder singled and scored, THS never was able to string together multiple base runners against Miller. The junior hurler fanned 11 Chieftain batters on his way to a complete-game victory. He struck out two batters in three different innings and ended the game by cutting down all three Chieftain batters in order in the seventh.
Yoder went two-for-three at the plate and Dylan Puhr was one-for-three for THS.
GAME TWO: TONGANOXIE 11, BONNER SPRINGS 1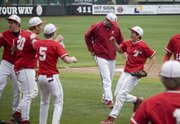 After being knocked out of classic championship contention by Spring Hill, Tonganoxie entered its consolation semifinal against Bonner Springs fuming and the Chieftains wasted no time taking out their aggression on the Braves.
"It's really nice to get to play right afterwards," Tonganoxie coach Phil Loomis said, "especially when you have such a crappy game."
THS (9-3) scored four in the first and sixth in the second on the way to a five-inning, mercy-rule win.
The Chieftains' first four batters all reached base and scored to help THS end a three-game skid. Ethan Lorance walked and advanced to third on a single by Schlicht. Jace Waters then scored Lorance with a bunt single. Schlicht was driven home by Yoder, who doubled to right field. Blaize Oelschlaeger drove in Waters with a ground out, and Puhr knocked in Yoder with a single to center field.
The second inning was more of the same as THS again had its first four batters reach base. Dylan Caywood singled, Lorance drew a walk, Schlicht drove them in by pounding a double down the right-field line and Yoder scored Schlicht with a single to right.
Jon Harris added an RBI-double and Puhr drove in two more THS runs with a bloop single.
Lorance was on the bump for Tonganoxie and picked up a victory with just four innings of work. He struck out five and allowed only two hits, from Bonner's Chance Crawford and Ryan Morris.
Although THS was disappointed to be playing in the consolation bracket, Loomis said the players responded well.
"We talked in between games. It's like, 'Are you guys going to turn it around or not?'" he said. "The trouble is they sometimes want to float through, and it's not that kind of game for 90 percent of the people in this world. You've got to focus all the time and play hard all the time and sometimes we just like to take time off."
That wasn't the case against BSHS, when Tonganoxie looked nothing like the team that had just lost to Spring Hill.
After winning eight consecutive games to start the season and losing three in a row, Loomis said he hopes the 11-1 victory ignites a new win streak.
Tonganoxie will play Perry-Lecompton or Basehor-Linwood in the classic's fifth-place game on Saturday at 1:30 p.m.