Bulldogs get off the mat, beat Eagles
Patterson ties state record for career hits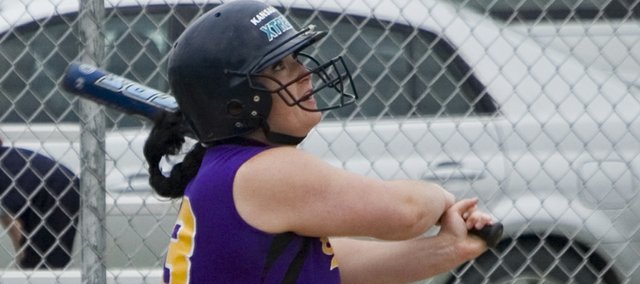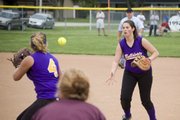 Silver Lake — For the first time this season, the McLouth High softball team was the punching bag instead of the puncher.
At least that's how Bulldogs softball coach Ballard Patterson saw it, using a boxing analogy to describe his team's first loss of the year, an 11-4 setback Monday at Silver Lake.
"Everybody's got a game plan until they get smacked in the face," he said.
While the coach was far from happy about the team's first black eye, he was thrilled with its counterpunch — a 10-4 uppercut of a victory in the second game of the doubleheader.
"You really can't determine the integrity of a champion by how they're doing when they're killing people," Patterson said, referring to his team's 12-0 start that included eight mercy-rule victories. "These guys responded after they got hit."
McLouth, which had just six hits in the loss but connected for 13 in the win, set the tone from the start of the second game as its first four batters reached base in the top of the first.
Missy Rome led off with a single to center field. Then Kaley Patterson was hit by a pitch. Jessie Troupe singled to right and on the throw in, Rome used her blazing speed to score. Next, Lezley Lawson drove Patterson home with a single to center. Later, with two outs, Morgan Drinnon hit an RBI-single to left, giving MHS a 3-0 lead.
"The best thing that's happened to us this season is getting our butts kicked in that first game," Coach Patterson said after seeing his players respond positively.
Troupe, who went 5-for-7 in the doubleheader with three RBI, agreed.
"It kind of made us wake up and see that we can't just walk in and beat everybody at regionals," she said of the upcoming state-qualifying tournament, which will be hosted by Silver Lake.
SLHS (13-1) countered the Bulldogs' quick start with two runs apiece in the first two innings and took a 4-3 lead that the Eagles maintained entering the fifth inning. However, McLouth (13-1) scored four runs in the fifth to take the momentum.
Rome led off the inning with a walk and Kaley Patterson reached on a fielder's choice after SLHS tried to get a force at second and failed. Troupe tied the game with an RBI-double over the right fielder's head.
With MHS cleanup hitter Lawson coming up, the Eagles chose to intentionally walk her to load the bases for Kendall Patterson, who was 0-for-5 in the twinbill at that point. That might have been the biggest slap in the face for MHS considering the senior catcher entered the game two hits shy of tying the Kansas state record for career hits. She responded by lofting a soft single to right field that gave McLouth the lead for good.
"Even though it wasn't the prettiest hit, I got it in play," she said after the game.
Patterson had another RBI-single in the sixth inning that tied her for the hits record, 147.
Her father, coach Ballard Patterson, thought all the pressure of chasing the mark might have led to Kendall's slow start at Silver Lake. She denied it as a distraction initially before conceding her mind might have been somewhat preoccupied.
"I wasn't really thinking about it at all during the game except for one time when a girl in the dugout asked me about it," she said. "I tried to block it out. Maybe it was back there subconsciously and I wasn't directly thinking about it."
Ballard Patterson said his senior catcher got back to being herself in her last two plate appearances.
"She just comes out and puts the ball in play," he said. "She's always been that type of hitter, just hit it back from where it came."
Rome was 3-for-4 and scored three runs in McLouth's win. Troupe was 3-for-4 with an RBI. Deanna Durkes went two for four and drove in two runs.